The audition stages of this year's 'Britain's Got Talent' are very nearly over, with not long to wait until the British public step in and weed out the wheat from the chaff when the live semi-finals kick off later this month. This series we really have seen a range of acts from across the board - death-defying stunts, salsa-dancing grans and girlbands galore, but if you think we've seen everything then just wait until you see what's in store this weekend on 'BGT'.
Here are five of the acts we're most excited about seeing in Saturday night's show…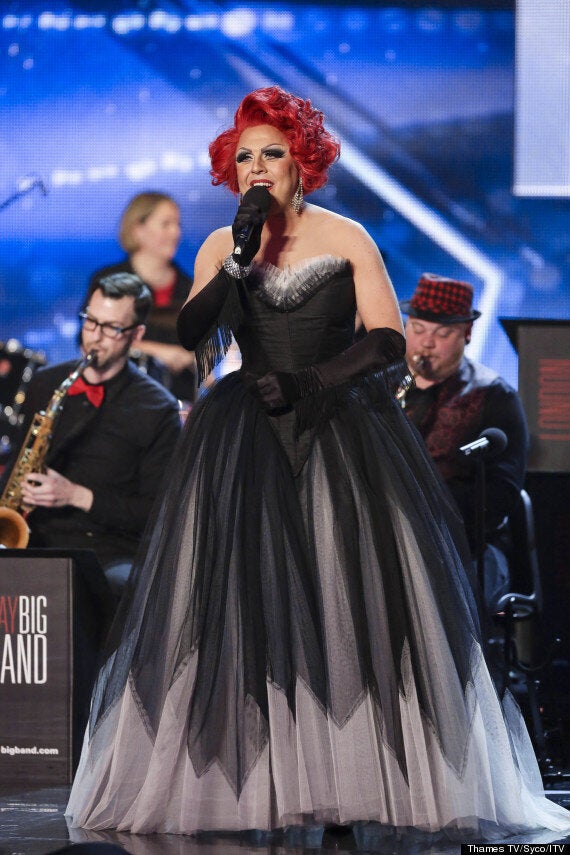 Drag act La Voix performs 'New York, New York'
1. La Voix & The London Gay Big Band
Hot on the heels of Conchita's big win in Eurovision last weekend comes another drag act hoping to win us over with her vocals. La Voix takes to the stage and jokes to the judges: "Sorry I'm so late I was having Simon Cowell's baby", before launching into an all-guns-blazing performance of 'New York, New York'. Of course it's as camp as a caravan holiday with Cilla Black and Christopher Biggins, which you'd think would be music to the ears of Amanda Holden, David Walliams and Alesha Dixon, although drag acts have notoriously never done well on 'Britain's Got Talent' in the past. Could La Voix be about to change that?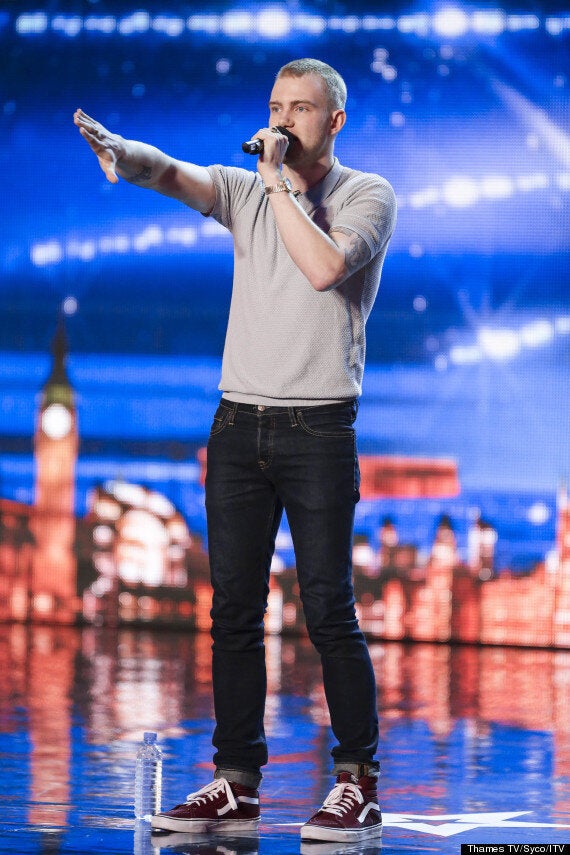 One Direction songwriter Ed Drewett
Pop music fans may already be familiar with the name Ed Drewett because he's already written top ten singles for The Wanted and Olly Murs, which we think is about to make him one of the most controversial auditionees of this series. Having already penned 'Best Song Ever' for Simon Cowell's biggest export, One Direction, we suspect some viewers won't be happy to see Ed among the auditionees, but his emotional performance of his original song 'Blink' could be about to win a lot of people over. But will the judges be impressed?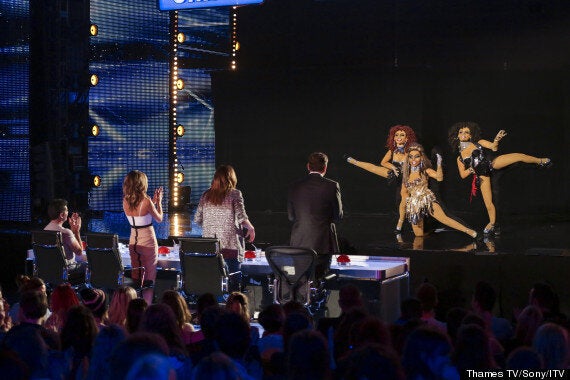 Kony came all the way from Poland to perform his full-bodied puppetry act
We love it when people take to the stage with something completely different, and that's exactly what we get with Kony, whose full-bodied puppetry gives a completely unique spin on Beyoncé's performance style. But will the panel think it's all a bit too 'crazy' and not enough 'Crazy In Love' for the Royal Variety?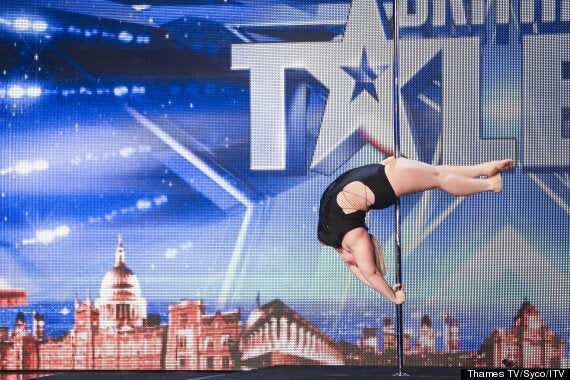 Emma Haslam wows with her pole routine
When Emma hits the stage in her skimpy stage costume, we're already sold as she coolly tells the judges she's there to prove "pole fitness is for all sizes". Now, admittedly, we're not sure how Royal Family-appropriate a pole dancing routine actually is, but we are massively impressed with Emma's stage presence and confidence. Unfortunately we're already imagining some of the more unpleasant Twitter comments that will come following her performance, but we'd like to go on record and say that we think Emma is great at what she does. But will the judges agree?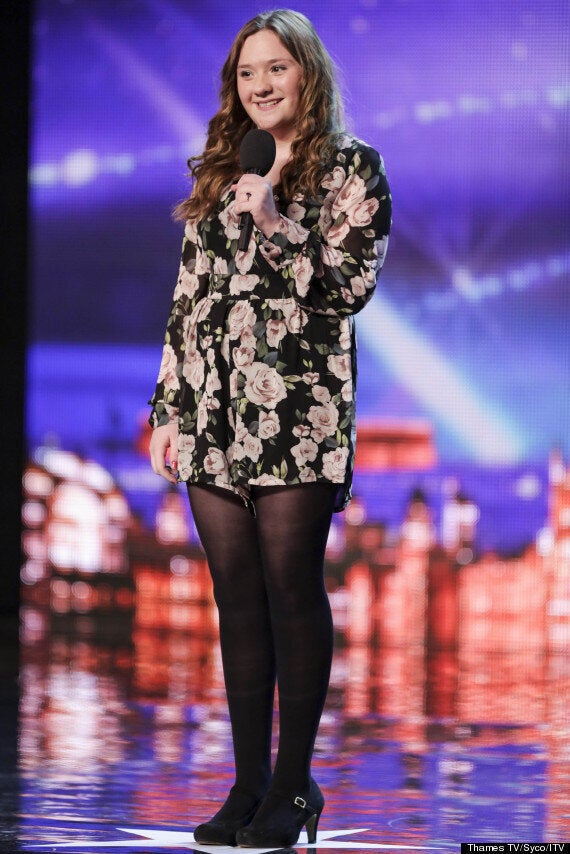 Teenager Jodi Bird performs 'Don't Rain On My Parade'
When we heard Jodi Bird reveal during her pre-audition interview that she loves music theatre, we have to admit we let out a little groan. Here comes another teenager to shuffle out, perform 'On My Own' from Les Mis, set Amanda Holden off crying and ge four yeses from the panel. Or so we thought. Instead Jodi has a trick up her sleeve in the form of the 'Funny Girl' classic 'Don't Rain On My Parade'. Simon Cowell, however, is not sold on the song choice, and stops her early in the performance much to the annoyance of his fellow judges… not to mention the audience. Eventually David Walliams - who, of course, isn't going to let a Streisand number go unfinished - encourages the 16-year-old to start the song again… but will that have knocked her confidence?
Find out how these acts got on during this weekend's 'Britain's Got Talent', airing Saturday May 17 at 7.30pm on ITV.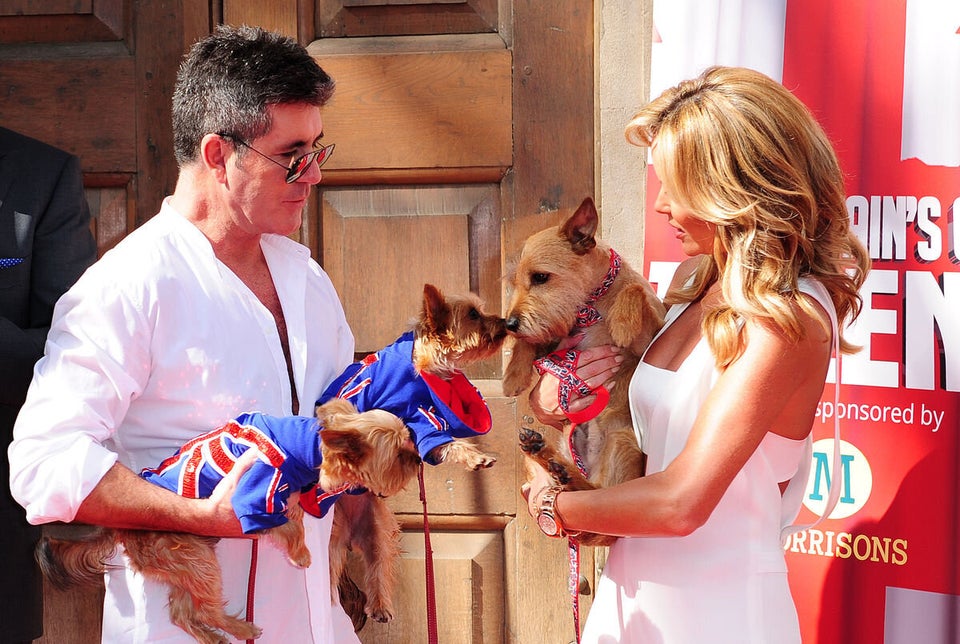 'Britain's Got Talent' 2014 Launch
href="http://www.facebook.com/HuffPostUKEnt"target="_hplink">LIKE US ON FACEBOOK

| FOLLOW US ON TWITTER
Popular in the Community