Normal propagandistic broadcasting from North Korea's news agency has resumed, the day after it offered a rare apology from the dictatorship for the collapse of an apartment building in Pyongyang that is suspected of killing hundreds.
It said there were "serious casualties" but made no mention of the death toll, though sources suggested hundreds could have died.
On Monday, business as usual appeared to have resumed and KCNA issued this happy-looking picture of leader Kim Jong Un touring a hospital.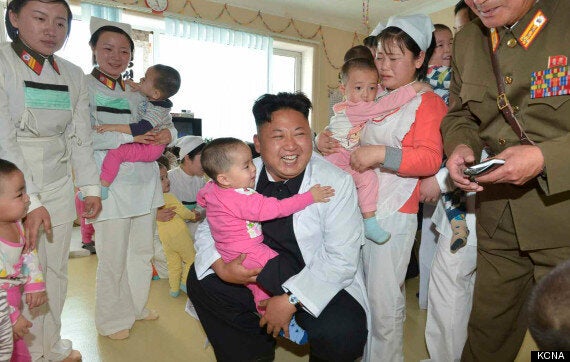 This propaganda image was issued the day after North Korea apologised for a building collapse that is feared to have left hundreds dead
If he had been "sat up all night, feeling painful" since news of the building collapse as KCNA reported, he was not showing it here.
The undated picture shows Kim touring the hospital, which specialises in the treatment of soldiers and their families, at an undisclosed location.
The photo, in which Kim is a beaming smile while holding a child, is a world away from this image that emerged of people mourning at the site of the Pyongyang accident. South Korean officials speculated hundreds could have died
The Associated Press reported that an anonymous South Korean government official said the 23-story apartment building that collapsed was believed to have housed 92 families.
That could mean the casualties could be in the hundreds because a typical North Korean family has four members, the official said. Officials were also pictured mourning
The KCNA report said the building collapse happened because an official "failed to uphold well the Workers Party of Korea's policy of love for the people".
"With nothing can he atone for the crime he committed against the people and he can never be pardoned, he said, repeatedly expressing deep apology to the bereaved families and other Pyongyang citizens," KCNA reported.
"He made a firm pledge to make sure that the Ministry of People's Security becomes a genuine security organ which always protects the interests, lives and properties of the people, true to the party's noble intention of putting the popular masses above all."
Popular in the Community