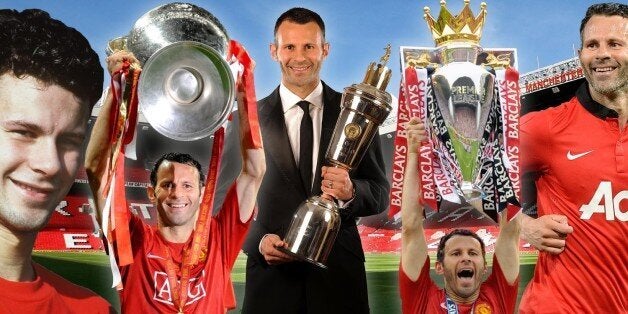 Ryan Giggs has retired from professional football after a glittering 23-year career at Manchester United at the age of 40.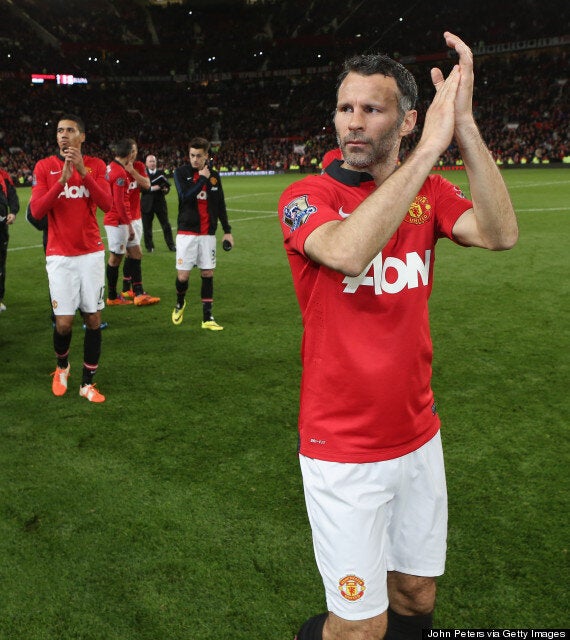 Giggs' last career match came against Hull City two weeks ago
"Today is a fantastic day for Manchester United. Louis van Gaal is a great appointment and let me begin by telling you how delighted I am to be working with someone of his calibre. His credentials are second to none and I'm positive the club will thrive under his leadership over the coming years.

I would also like to take this opportunity to announce my retirement from professional football and embark upon a new and exciting chapter in my life, as assistant manager of Manchester United. I am immensely proud, honoured and fortunate to have represented the biggest club in the world 963 times and Wales 64 times. My dream was always to play for Manchester United, and although it saddens me to know I won't be pulling on a United jersey again as a player, I have been lucky enough to have fulfilled that dream playing with some of the best players in the world, working under an incredible manager in Sir Alex Ferguson, and most of all, playing for the greatest fans in world football. I have always felt and appreciated your support.

I want to also give a huge thanks to the backroom staff and support teams we have and have had at Manchester United over the years. I would not have achieved the success I have without your continuing dedication and commitment to creating the best environment to enable the players to thrive. I would not have won 34 trophies in my career without you. I would also like to say a special thanks to my friends and family for all your love and support.

For me, today is a new chapter filled with many emotions - immense pride, sadness, but most of all, excitement towards the future. United fans I hope will share and echo my belief that the club, the management and owners, are doing everything they can to return this great club to where it belongs, and I hope to be there every step of the way. To the greatest fans in world football, thank you, I have loved every minute of playing for you and representing the biggest and best club in the world."
Giggs made his debut as a 17-year-old against Everton in March 1991 and went on to become United's longest-serving player.
He made 962 appearances for the Reds, scoring 168 goals, and produced numerous moments of ingenuity throughout his Old Trafford career.
Giggs scored what many consider to be the greatest goal in United's history during the unforgettable FA Cup semi-final replay against Arsenal at Villa Park in 1999.
Intercepting Patrick Vieira's wayward pass in extra-time, Giggs, on as a substitute, ran from inside his own half past half the Gunners side before blasting the ball high into David Seaman's net.
Giggs whipped off his shirt as United supporters poured onto the pitch to celebrate with the players in a moment that fuelled the momentum ahead of the club's historic treble triumph.
"Vieira, whooooah, Vieira, whooooah," United fans still sing to Dean Martin's Volare, "He gave Giggsy the ball, and Arsenal won fuck all." Giggs is also serenaded to the tune of Robin Hood ("Ryan Giggs, Ryan Giggs, running down the wing") and Joy Division ("Giggs will tear you apart... again").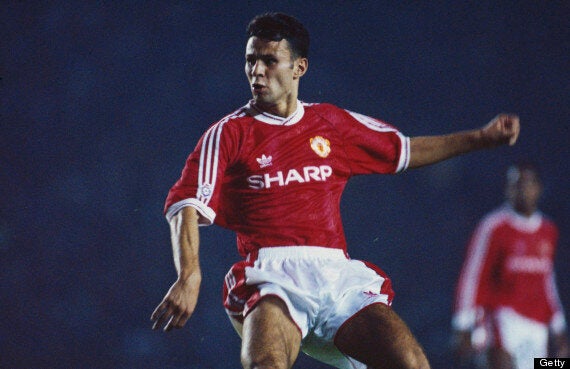 A skinny Giggs looks on during his breakthrough 1991-92 season
"I remember the first time I saw him," Sir Alex Ferguson once said of Giggs. "He was 13 and he floated across the ground like a cocker spaniel chasing a piece of silver paper in the wind."
Giggs broke into the first-team a year before United's Class of '92, which included David Beckham, Gary Neville, Nicky Butt and Paul Scholes, won the FA Youth Cup.
The quintet, along with Neville's brother Phil, formed a homegrown bedrock between 1995 and 2004, when United won six titles, three FA Cups and the Champions League.
Giggs scored the title-clinching goal at Wigan Athletic on the final day of the 2007-08 season and 11 days later struck the winning penalty in the Champions League final in Moscow.
At the age of 35 he was named the PFA Player of the Year and latter on in 2009 received the BBC Sports Personality of the Year.
As Ferguson became parsimonious in the transfer market, Giggs' importance to United rose and he played an instrumental role in the record 19th championship win in 2011, as well as in 2013.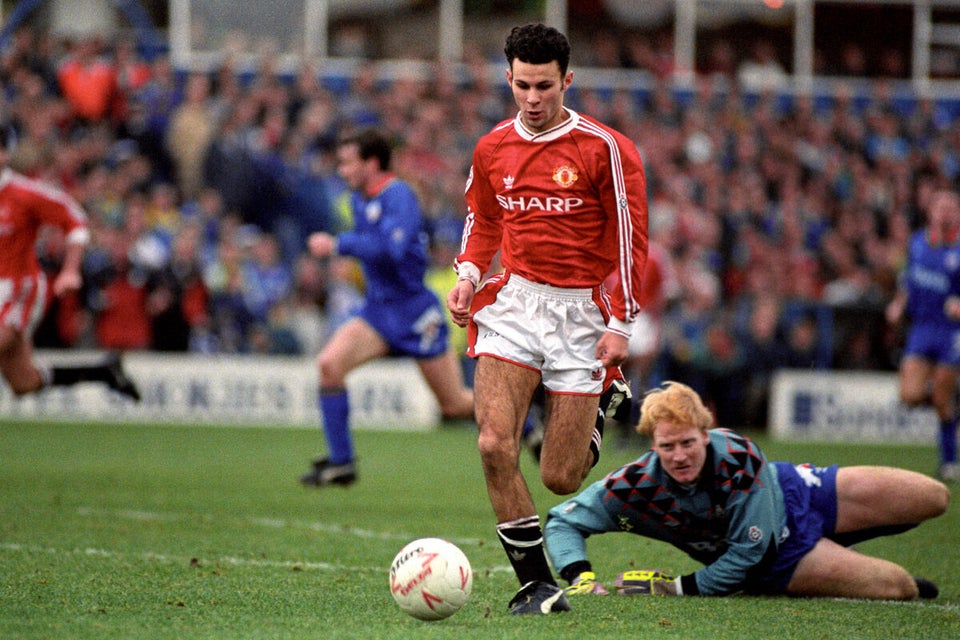 Ryan Giggs' Manchester United kits
Popular in the Community