These incredible CCTV images show the moment a gang of robbers on mopeds pulled a £60,000 watch straight off a man's wrist - in an attack so terrifying the victim has said he will emigrate.
The footage, broadcast by TV station London Live, shows the gang attacking the man, who is in his 50s, outside his Hampstead home in broad daylight.
As well as the watch, the gang also took jewelry including rings and a chain before speeding off.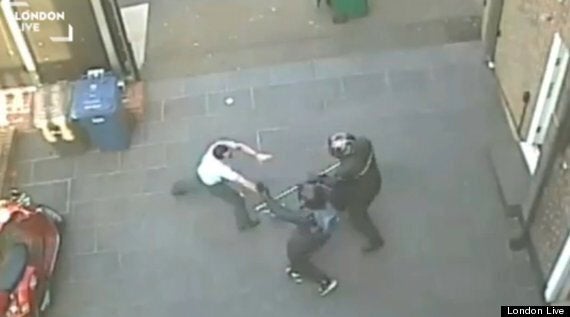 The robbers pulled the man's £60,000 watch from his wrist
At first, the victim tries to fight off two men wearing crash helmets with a broom as they approach him.
One of the robbers pulls the broom from him and appears to threaten him with it as they pull the man closer to the road where the mopeds are waiting.
After a further struggle the victim eventually stops resisting and one of the robbers rips the watch from his wrist.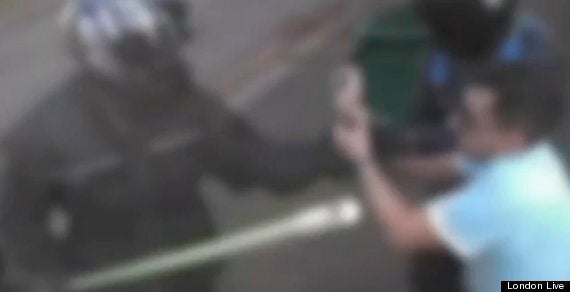 The robbers pulled the man from his driveway towards the road
Those robbers tried but failed to grab Merkel's watch and wound up stealing a bag from him, the Daily Mail reported.
The victim of the robbery shown in the CCTV told The Evening Standard: "I'm frightened for my life. I have no doubt this is the same gang who did the footballer's house – it's just a few minutes away."
The man, who has not been named, added he was so afraid the gang would strike again, he was planning to leave the UK.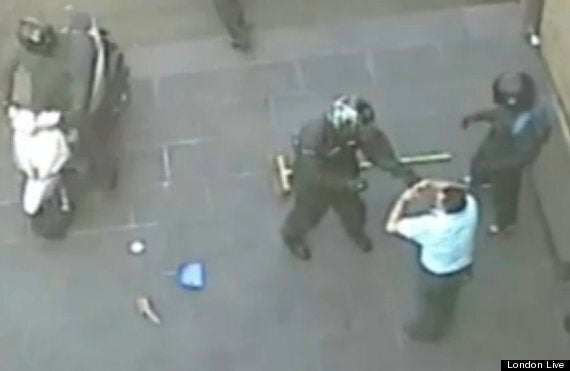 The victim said the attack left him so fearful he was planning to emigrate.
He said: "It isn't a question of 'if' they come back. They will come back. I have been driven out of my own house and the country."
He added: "They were wrestling me and one was shouting 'get his watch'. I was shouting at them 'take what you want'. Another man lunged at me with a hammer but his friend stopped him.
"They forced me down into my driveway and took my rings. Then one of them ripped a chain from my neck. It was all over in 90 seconds. I was left traumatised. I was so shaken up I couldn't speak. I was too scared to leave my house for days."
He said: "I feel terrible, I'm not in control of my life. I'm wearing a panic alarm strapped to my body. London is not safe."