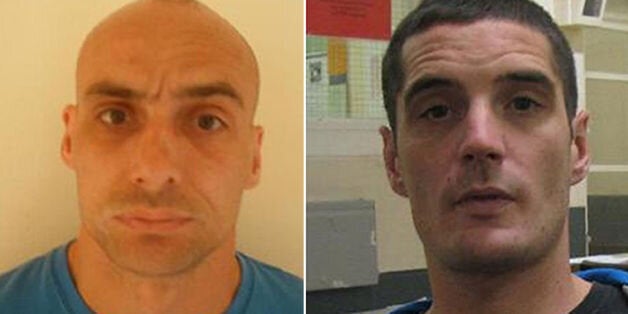 Two inmates who absconded from an open prison have been found and arrested, police said tonight. Damien Burns, 39, and Dean Jackson, 27, went missing from category D Hatfield Prison, near Doncaster, on Monday.
South Yorkshire Police said Burns was arrested this evening in Scarborough, North Yorkshire, and Jackson was detained in Durham.
The force thanked the public for their help.
The disappearance of Burns and Jackson has been just one of a series of controversial incidents involving inmates absconding from low-security jails in recent weeks. Burns was convicted in 2007 and was serving an indeterminate sentence for a knifepoint robbery and Jackson was on remand awaiting sentencing for a theft-related matter, police said yesterday.
A spokesman for the force said tonight: "The two men who absconded from HMP & YOI Hatfield in Doncaster on Monday, 19 May, have been found and arrested this evening. Damien Burns, 39, was arrested in Scarborough and Dean Jackson, 27, was arrested in Durham. Police would like to thank the public for their assistance."
Earlier today, Cheshire Police announced that two more prisoners had gone missing. Anthony Peloe, 43, who was serving an indeterminate sentence for possessing firearms with intent to cause harm, and John Arnold, 30, a convicted robber, absconded from Thorn Cross open prison in Warrington yesterday morning.
Prison officials discovered the pair were missing at around 10.30am and alerted Cheshire Police, who launched a manhunt. Officers are advising the public not to approach either man, but are appealing to anybody who may have seen them or have information about their whereabouts to contact police urgently.
Superintendent Martin Cleworth, of Warrington Police, said: "Cheshire Police are making every effort to locate these two men, including liaising with colleagues in other forces. "They may be travelling together or separately. My advice to any member of the public who sees them is not to approach them, but to immediately ring police on 999.
"I would also ask members of the public to be mindful that the men remain outstanding and, despite the hot weather, be cautious about leaving your house or car insecure with an open window. If you have any concerns at all, contact your local police station." Arnold was given an indeterminate sentence with a minimum term of two years after being convicted of robbery in May 2006.
He is described as white, about 5ft 11in and of slim build. He has brown hair and brown eyes and may be wearing green prison-issue trousers. Peloe was convicted of possession of firearms with intent to commit harm in December 2005. He was given an indeterminate sentence with a minimum tariff of three years.
He is described as white and about 5ft 8in, with brown hair and blue eyes. He may also be wearing green prison-issue trousers. The pair are the latest in a string of inmates who have absconded from prisons in recent weeks. Arnold Pickering, who stabbed a blind man to death, was arrested earlier this week after going on the run from jail.
Another inmate, swastika-tattooed Thomas Moffett, 51, who is serving an indeterminate sentence for a number of robberies, also failed to return from day release on Saturday but was arrested for being unlawfully at large. And it comes two weeks after notorious armed robber Michael Wheatley - dubbed the Skull Cracker - absconded from Standford Hill open prison on the Isle of Sheppey in Kent while on temporary release. He was later arrested by police.