The tongue-in-cheek leaflet also alleges that a town hall solicitor is willing to turn a blind eye to ballot papers that have been fraudulently changed, and that parties will "count on the white folk not voting".
"Medlock Vale has three Asian councillors, with an Asian community of around 1,000 in the ward," it says.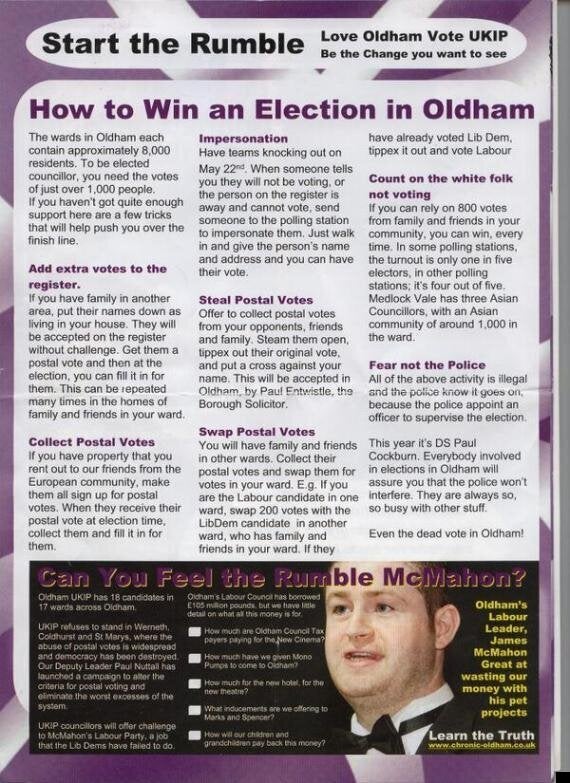 Oldham's Labour council leader Jim McMahon said the leaflet was "intended to create racial divisions in the town and tarnish the reputation of honest and hardworking public officials. If they [Ukip] had any morals they would expel the candidates and agents involved."
Fitzpatrick is the former agent to ex-Oldham and Saddleworth East Labour MP Phil Woolas, who was convicted of lying on a general election leaflet about his Lib Dem opponent.
During the court case a number of emails between Woolas and his campaign team emerged, suggesting the campaign was not going well, including one where Fitzpatrick emailed Woolas and Steven Green, the MP's campaign adviser, to say: "If we don't get the white vote angry, he's gone."
Racial tension is still rife in Oldham, 13 years after the riots that caused £2.2 million of damage, though local leaders have worked hard in recent years to build bridges between communities, which were geographically segregated.
The caption says: "They fought and died to keep Britain free from foreign invasion and control by foreign powers. Don't let their sacrifice be in vain. Vote Ukip. For them, for freedom, for Britain."
Labour MP and ex-Parachute Regiment officer Dan Jarvis told the Sun the leaflet would "appall" British people.
Ukip did not respond to a request for comment.
Related