More than 30 people have been killed in a bloody bombing of shoppers in China's troubled Xinjiang region, with two drivers crashing into a marketplace and throwing explosives.
The attack hit the crowded morning market at the Cultural Palace, in the regional capital of Urumqi.
"Witnesses said two cross-country vehicles driving from north to south ploughed into people in the market at 07:50. Explosives were thrown out of the vehicles," the Xinhua state-news agency said.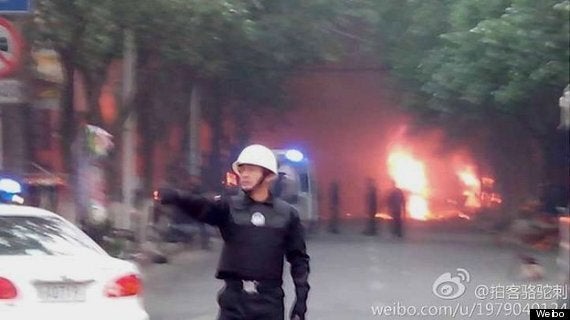 Pictures posted on Weibo showed flames and smoke from the building
Chinese President Xi Jinping pledged to "severely punish terrorists and spare no efforts in maintaining stability".
Eyewitnesses said explosives were thrown from two cars which deliberately crashed into a crowded marketplace, More than 90 people have been injured, according to Xinhua. The news agency called the attack a "serious terrorist incident".
Pictures of the incident have appeared on Chinese social media platform Weibo, with one showing clouds of smoke over market stalls, and one apparently showing victims lying in the street, with flames in the background.
"I saw flames and heavy smoke as vehicles and goods were on fire while vendors escaped leaving their goods behind."
It is the latest in a spate of attacks in the northwest of the country, home to the country's Uighur Muslim minority who claim they are often persecuted by the Chinese authorities.
Ethnic tensions between the Han Chinese and Uighurs have caused several deadly incidents within months.
Last month, during the final day of President Xi's visit to the region, another knife attack was carried out at the railway station in Urumqi, killing one person and wounding 79.
Foreign Secretary William Hague said he was "saddened" to hear of the attack and sent condolences to the victims and their families.
"The UK strongly condemns violence in all circumstances, and we stand firmly with the Chinese people at this time," he said in a statement.