A family's Sunday morning lie-in was interrupted by the presence of a furry interloper – in the form of an urban fox.
Sarah Preddy, 49, and partner Colin Linton, 55, were drinking tea and reading the papers when their dog alerted them to the intruder.
Their nine-month-old chocolate Labrador Molly rumbled the trespasser hiding in a spare room in the house in Romford, Essex. Whose been sleeping in my bed? The fox issues a withering look before running away
Freelance consultant Preddy said: "The dog jumped up off the bed and went to the bedroom door looking really distressed and making weird noise, which we thought was a bit odd.
"My partner opened the door and Molly flew across the landing towards the spare room. We couldn't believe it when we opened the door and saw the fox was calmly sitting in the corner on the bed.
"Colin was a bit of an action hero covering himself in a mac and gloves holding a rake to try to coax it out of the bedroom. It was quite a shock."
Preddy's stepsons, James, 26, and John, 24, were both in bed with the fox decided to pay his visit.
The ginger beast appeared to cast a condescending glare over the couple before finally being ushered out.
Preddy said: "We didn't know how to get rid of it and I actually think it was sick, which was the scary thing.
"It wasn't acting in a normal way and was covered in mange, which can get passed on so it wasn't nice. Storming out: Having lolled on the bed, the animal makes his exit
"I phoned the RSPCA and we were told to block off the rest of the house and wait for it to saunter downstairs.
"It took about an hour to leave but it could've taken all day which is a horrible thought.
"Luckily, our boys were in their rooms but we have a seven-month-old grandson and I dread to think what could have happened if he had been there."
James added: "When I said I was hoping to wake up with a fox in my bedroom this weekend, I didn't mean literally." He'll be back? The family fear they are in for a repeat visit
The family have been plagued by foxes in the past and now feel like 'prisoners in their own home' because they can't leave their doors open anymore.
Preddy said: "Urban foxes are always so disgusting and manky and we've had problems with them before fouling everywhere.
"I grew up in the country and they are a different breed of animal there. I think we're going to a real epidemic because the problem is just getting worse, which is very scary.
"Now we can't leave the patio doors open and feel like prisoners in our own home.
"I am completely freaked out and haven't been in the spare room since because the thought of going where the manky, mangy creature has been all over the duvet makes me feel sick."
An RSPCA spokesman said: "It is unusual for foxes to enter homes as by nature they will tend to avoid human contact. In the rare instances when they do venture into a home, it is likely they are attracted to food which has been left out."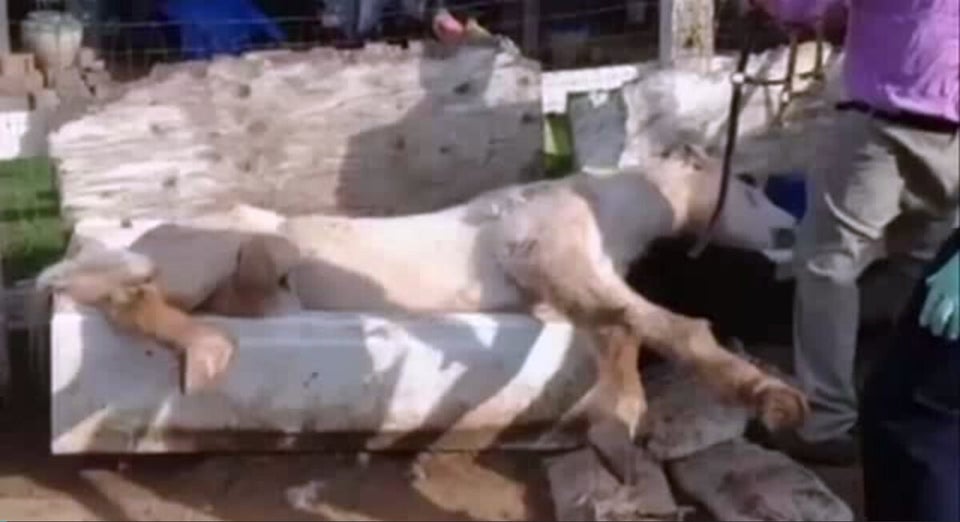 Animals In The News