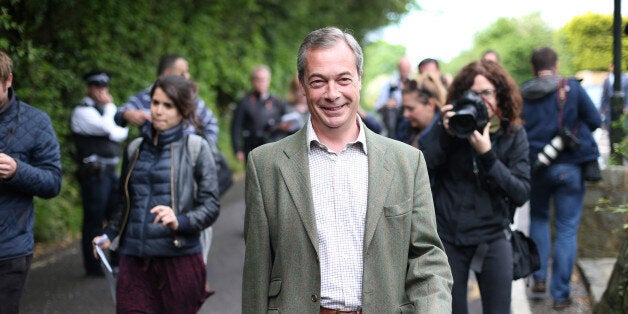 Here are the five things you need to know on Friday 23 May 2014...
Don't write off the protest vote. That's the lesson of the local election results so far. As of this morning, Ukip had gained more than 80 council seats - a far higher number than analysts had predicted. A jubilant Nigel Farage said his party had made an undeniable "imprint" on local government and would now be "serious players" at the general election next year.
Panicked Tory backbenchers agree with him. They're worried and want to do a deal. Jacob Rees-Mogg told the BBC he'd "much prefer love bombing Ukip because they're much closer in their view of the world to us than the Lib Dems are". Peter Bone declared: "Somehow the Conservatives and Ukip have to work together and and have some sort of pact or accord." "We need a pact with Ukip," agreed Douglas Carswell.
But Grant Shapps, the Tory chair, dismissed talk of a pact: "The Conservative Party is the Conservative Party. We will stand as the Conservative Party at the next election."
Nonetheless, the Times points out that such talk risks "shattering Mr Cameron's hopes of unity until the crucial Newark by-election in two weeks' time".
So, is this the day that Ukip, as Nick Robinson said on BBC Radio 4's Today programme, emerge as "a fourth nationwide political force"? Or is this a blip and are we getting carried away with Faragemania? The Guardian is convinced it's the former: "Ukip delivers first tremors of political earthquake."
Meanwhile, Ukip's press team are pretty pleased with themselves: "Dear Other Parties & Their Media Chums and ESPECIALLY to spiteful left wing organisations...IT DIDN'T WORK YO! Love from UKIP Press Office x" tweeted Ukip press officer Alexandra Phillips.
2) ED 'LOOKS WEIRD, SOUNDS WEIRD, IS WEIRD'
Meanwhile, the results for the 'main' parties so far show the Tories and Lib Dems down by around 100 council seats with Labour up by 100. The Opposition needs to secure at least 300 seats to plausibly claim to have had a 'good night'. It's been a mixed election for the party: Labour won Hammrsmith and Fulham, one of the Tories' flagship councils. They failed to win Swindon - where Ed Miliband forgot the name of the local Labour leader earlier this week - but were victorious in Cambridge. As of this morning, Labour had 28 councils, the Tories 17 and Lib Dems two.
The Labour group leader in Portsmouth, John Ferrett, admitted Ukip's performance was "causing mayhem". And, as the Times reports, there is huge pressure ('knives out') for Ed Miliband:
"Ed Miliband has come under attack from his front bench over fears that Labour will be beaten into second place in the European elections. Anger is growing among senior party figures who believe that a 'lacklustre' campaign failed to tackle the threat from Ukip, underplayed the party's position on immigration, and was out of touch with people on the street. Doubts were also growing over Mr Miliband's image after a series of interviews and disastrous photographs. One leading Labour figure told The Times: 'The narrative around Ed Miliband, because it's the truth, is that he looks weird, sounds weird, is weird.'"
Douglas Alexander, Labour's campaign chief, tried play down the rise of Ukip, telling the Today programme: "We've lived with four-party politics for decades in Scotland," and adding: "I believe this morning as I did yesterday morning that Labour can win the general election."
The knives could also be out for Alexander today, though, with Labour backbencher Graham Stringer accusing the party of running an "unforgivably unprofessional" election campaign.
The Lib Dems are taking a hell of a beating in these local elections - losing Cambridge, for example! - and it's only going to get worse for them on Sunday night, when the results of the European Parliament elections are revealed. So, what wrong for the party that used to garner all of the protest votes that now go to Farage and co? A Lib Dem minister was keen to explain on the BBC last night, as my Huffington Post UK colleague Ned Simons reports:
"The Liberal Democrats have lost some of their 'humanity' since entering into coalition with the Conservative Party a Lib Dem minister has said, as the party braced for a difficult night of local election results. Lynne Featherstone told the BBC's election night programme as the first results started to trickle in that it was not the Lib Dems 'finest result ever' and conceded that being in government 'hasn't been brilliant' for the party electorally. 'I guess partly being in government we have become ministerial, we have become more political, and perhaps we have lost some of our humanity that Nick [Clegg] had four years ago,' she said."
BECAUSE YOU'VE READ THIS FAR...
Watch this video of former Tory police minister Nick Herbert use the word 'f**kwit' live on BBC2's Daily Politics yesterday. Oops.
4) VLAD HITS BACK AT CHAZ
"Russia yesterday lashed out at Prince Charles for comparing Vladimir Putin to Hitler, publicly questioning his fitness to be king. As controversy continued to rage around the world, Russia's foreign ministry said his remarks were 'unacceptable, outrageous and dishonourable' and 'not worthy of a future British monarch'. Russian diplomats insisted on meeting counterparts in London, where they are understood to have demanded an official explanation. But the frosty 40-minute talks at the Foreign Office in London ended without agreement when British officials flatly refused to discuss Charles's words – and instead attacked Russia for seeking to destabilise eastern Ukraine."
Australian Prime Minister Tony Abbott has been branded a "total creep" for giving an oh-so-seductive wink and nod as he responded to a radio call from a distressed pensioner who said she had to resort to phone sex work to make ends meet. As the chronically-ill grandmother and pensioner Gloria introduced herself, saying "I work on an adult sex line to make ends meet", Abbott was caught on camera winking and smiling in the direction of ABC Radio host Jon Faine (off camera). As she continued, Mr Abbott broadened his grin for a few seconds — then looked straight at the camera and swiftly composed his expression. Perhaps because he had been reminded the cameras were actually rolling.
You can watch the video of 'creep' Abbott here.
Philip Collins, writing in the Times, says: "How to read between the lines of this election."
Fraser Nelson, writing in the Telegraph, says: "Theresa May, the tiger woman who rips her enemies to shreds."
Simon Jenkins, writing in the Guardian, says: "How much gory detail do we need the Iraq war inquiry to publish?"
Got something you want to share? Please send any stories/tips/quotes/pix/plugs/gossip to Mehdi Hasan (mehdi.hasan@huffingtonpost.com), Ned Simons (ned.simons@huffingtonpost.com) or Asa Bennett (asa.bennett@huffingtonpost.com). You can also follow us on Twitter: @mehdirhasan, @nedsimons, @asabenn and @huffpostukpol