An Iranian actress who angered authorities in Tehran by pecking the Cannes film festival's president on the cheek is now facing calls to be flogged and jailed.
Leila Hatami was photographed kissing Gilles Jacob at the opening of this year's festival, on which she is a member of the jury, AFP writes.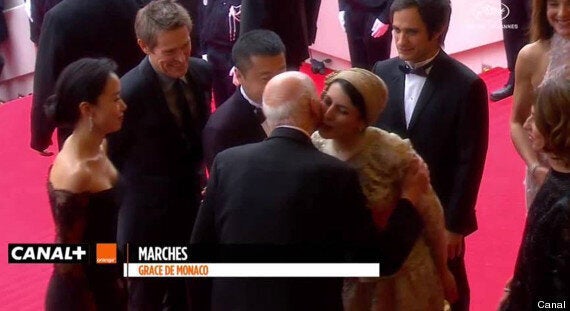 Leila Hatami was photographed kissing Gilles Jacob at the Cannes Film Festival
"Iranian woman is the symbol of chastity and innocence," he said.
Hatami's "inappropriate presence" at the festival was "not in line with our religious beliefs", he added.
Hatami played the lead female role in A Separation, which won an Oscar for best foreign film in 2012.
The award winning actress has now been targeted by the hardline Baseej militia, which has reportedly started criminal proceedings against her. Hatami starred in the 2012 Oscar-winning film A Separation
The newspaper cites an open letter from the group as saying: "Because Leila Hatami is a well-known actress and has knowingly and deliberately taken part in the forbidden act of kissing an unrelated man and appeared in unIslamic dress in public, she is legitimising such behaviour."
Hatami is currently in France but lives in Tehran with her actor husband Ali Mosaffa.
Following the outcry, Jacob took to Twitter to say: "It's me that kissed Mademoiselle Hatami. At that moment she represented all Iranian cinema, then she became herself again.
"This controversy based on usual custom in the West is therefore not relevant."
Sebastian Usher, the BBC's World Service Editor said Hatami was wearing a scarf around her head but her neck was uncovered.
Under Islamic law, wearing the hijab has been compulsory since the 1979 Revolution and the lack of it is punishable by fines, imprisonment or lashes. Additionally, a woman is not allowed to have physical contact with a man outside her family.
The incident was branded "a vulgar clip which hurt public chastity" by Tehran police chief Hossein Sajedinia.
On Wednesday a Twitter account operated by Rouhani's aides tweeted: "#Happiness is our people's right. We shouldn't be too hard on behaviors caused by joy." 29/6/2013