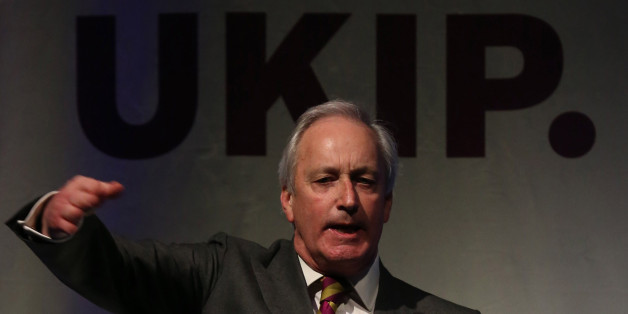 Matt Cardy via Getty Images
The disgraced former MP and Ukip deputy chairman Neil Hamilton has failed in his bid to be elected as a councillor in Wandsworth.
Hamilton, whose name became synonymous with sleaze after a cash-for-questions affair saw him squeezed out of the Tory party, polled a miserable 396 votes.
"The potential influence of Ukip was the story that never was," the Wandsworth Guardian reported, with none of the party's 18 candidates in the borough coming close to securing a berth.
Nevertheless, Hamilton spoke out Friday after a Ukip candidate who called all the women of his town "pug ugly', somewhat surprisingly, won his seat in Basingstoke.
Hamilton said Matthew Ellery may have claimed victory because, wait for it.. "perhaps some women like people talking dirty to them."
Of course, Neil.
On a side note, now seems an opportune moment to remind you all that Hamilton once recreated *that* scene from Ghost.
Neil. Hamilton. pic.twitter.com/XeTiDtk5ku

— Pacific Quim (@emotionalpedant) May 23, 2014
The former MP infamously went to court in the 90s in an effort to clear his name of accusations that he had accepted envelopes stuffed with cash from Harrods boss Mohamed Al Fayed in exchange for asking parliamentary questions. He failed.
He once quipped, "I've found it's much better making political jokes than being one."
Hamilton, who has previously described Ukip as the party for "decent supporters of the BNP", also appeared on Thursday night's BBC Question time, during which he received a thorough pasting on Twitter.
Voting Ukip and then seeing Neil Hamilton on #BBCQT must be like waking up, rolling over & realising the AWFUL mistake you made last night

— Tim Stanley (@timothy_stanley) May 22, 2014
I like that when Neil Hamilton reaches a critical volume, the audience start groaning in deep, genuine, soul-born pain #bbcqt

— Matt Tidby (@NonsenseVendor) May 22, 2014
Why is Neil Hamilton allowed on TV? #bbcqt

— Max Campfield (@MaxCampfield) May 22, 2014
Give UKIP a break. You can tell just by looking at Neil Hamilton that he's not racist or homophobic or the sort to take brown envelopes.

— Jim Fitzpatrick (@jimfitzbiz) May 22, 2014
Every time Neil Hamilton was speaking on #bbcqt, all I could think of was this http://t.co/qziabzxube

— Tom Wright (@TelfordTom) May 22, 2014
In another one of the least-shocking results to come out of the local elections so far, Winston McKenzie also failed in his bid to get elected as a Ukip councillor in Croydon – after calling his own constituency "a dump."
The people of Croydon were clearly left feeling less than enthused to vote for the former professional boxer and motivational speaker after he said "Croydon has become a dump."