With the warm weather approaching, it is inevitable to start daydreaming about good ole summer barbecues.
And as any vegetarian knows, it's the one social occasion where you are liable to get utterly shafted. In the food sense, that is. If you're seriously unlucky, the host forgets to make any vegetarian food at all, and if you're lucky, there just might be a Quorn burger lodged right at the back of the freezer.
So boy, are we glad to see this.
Author, food writer and chef Ross Dobson has turned the barbecue world upside down in his new recipe book, Fired Up: Vegetarian by recreating classic barbecue dishes with a veggie twist.
Enjoy a selection of his classic barbecue food both vegetarians and meat lovers will favour, inspired by culinary influences from around the globe.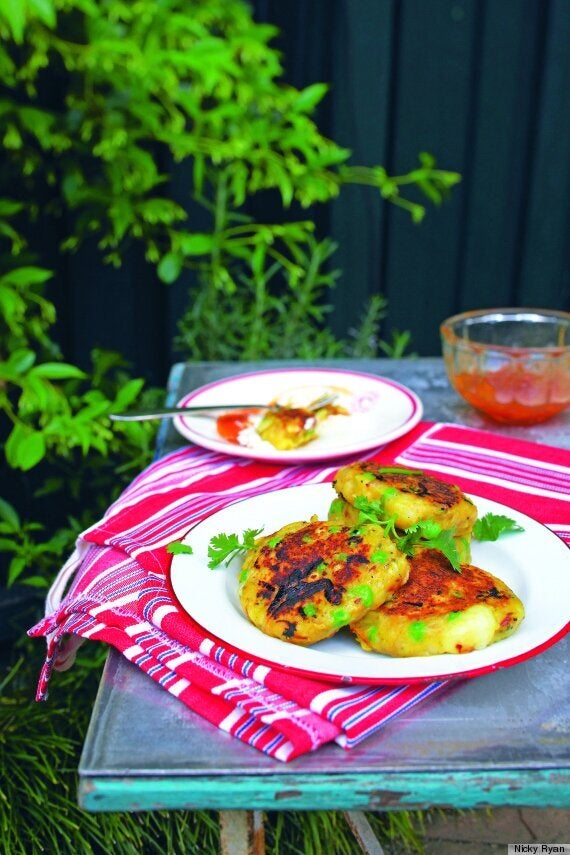 4 medium-sized russet (idaho) or king edward potatoes
2 tablespoons light olive oil,
1⁄2 teaspoon black mustard seeds 1 onion, thinly sliced
1 garlic clove, finely chopped
2 teaspoons finely grated fresh
75 g (21⁄2 oz/1⁄2 cup) frozen peas,
1⁄4 teaspoon ground turmeric
1⁄4 teaspoon chilli powder
1⁄2 teaspoon garam masala
1⁄2 cup finely chopped coriander
(cilantro) leaves and stalks,
plus extra leaves, to garnish mango chutney, to serve
Peel and wash the potatoes. Cut each into eight pieces and place in a saucepan. Cover with cold water, bring to the boil and cook for 15 minutes, or until just tender. Drain well, then tip the potatoes out onto a clean chopping board to cool and dry.
Put the potatoes in a large bowl and roughly mash them.
Heat the olive oil in a frying pan over high heat. Add the mustard seeds and cook until the seeds start to pop. Add the onion and cook, stirring, for 4–5 minutes, or until golden. Now add the garlic, ginger, cumin seeds and fennel seeds and stir-fry for 1 minute, until aromatic. Mix the peas through.
Pour the onion mixture over the potatoes. Add the turmeric, salt, chilli powder, garam masala and coriander. Stir together using a large spoon, making sure the ingredients are really well combined. Cover and set aside at room temperature for an hour or two for the flavours to develop, or refrigerate until needed.
Using slightly wet hands, divide the mixture into eight equal portions, then form into balls. Gently pat down into discs or patties.
Preheat the barbecue hotplate to high. Brush with a little olive oil to lightly grease.
Cook the patties on the hotplate for 10 minutes on each side, or until they have a golden crust.
Serve warm, garnished with coriander leaves, with chutney and yoghurt on the side.
Lime and Turmeric Tofu Steaks With Fresh Sambal (serves 4)
600 g (1 lb 5 oz) firm tofu
60 ml (2 fl oz/1⁄4 cup) lime juice
60 ml (2 fl oz/1⁄4 cup) grapeseed oil 1⁄4 teaspoon ground turmeric lime cheeks, to serve
1 teaspoon vegetable stock (bouillon) powder
2 kaffir lime leaves, thinly sliced 2 lemongrass stems, pale part
2 bird's eye chillies, finely
3 tablespoons finely chopped
2 garlic cloves, finely chopped 1 tablespoon vegetable oil
Combine the sambal ingredients in a bowl and stir until the stock powder has dissolved. Cover and set aside for 30 minutes, or refrigerate overnight.
Cut the tofu into four equal portions. Place in a flat dish in a single layer.
Combine the lime juice, grapeseed oil and turmeric in a bowl and stir until the turmeric has dissolved and the oil is vibrantly coloured. Pour the marinade over the tofu and turn to coat all over. Set aside for 30 minutes.
Preheat the barbecue grill to high. Cook the tofu for 2–3 minutes on each side, or until heated through and slightly crusty.
Serve warm, with the sambal spooned over and lime cheeks on the side.
Haloumi, Mint and Preserved Lemon Cigars (serves 4–6)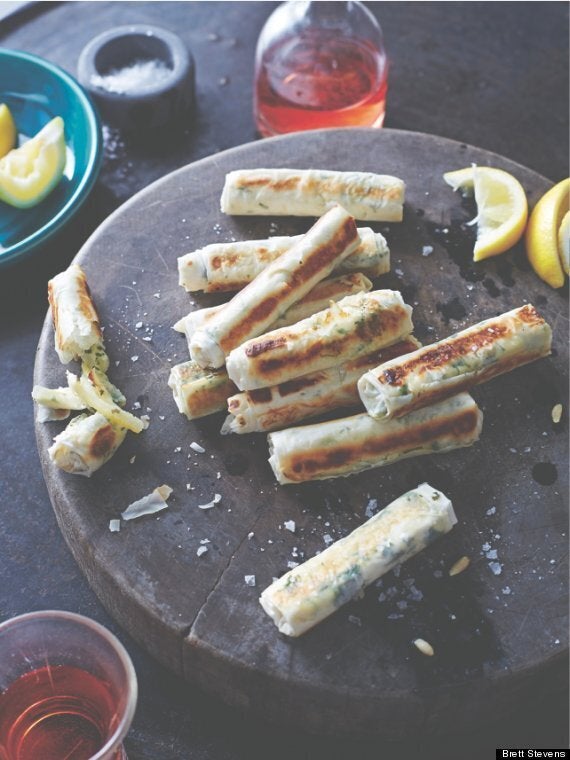 6 filo pastry sheets, each measuring 44 x 28 cm (171⁄2 x 111⁄4 inches)
200 g (7 oz) block haloumi cheese
2 tablespoons finely chopped mint leaves
12 thin strips of preserved
sea salt, for sprinkling lemon wedges, to serve
Lay the filo sheets on top of each other. Cut the stack in half lengthways, then cut across in half to give 24 smaller rectangles of pastry. Lay the rectangles on top of each other and cover with a damp cloth.
Cut the haloumi into 12 thin fingers. Combine the mint and olive oil in a bowl.
Lay two filo rectangles on top of each other and brush with some of the oil from the bowl. Put a piece of haloumi on the short end of the pastry, top with a strip of preserved lemon, then fold the sides of the filo over the haloumi and roll up into a cigar shape. Repeat to make 12 cigars.
Preheat the barbecue hotplate to medium.
Cook the cigars on the hotplate for 4–5 minutes, turning often, until the pastry is golden and charred. Sprinkle with a little sea salt and serve hot, with lemon wedges on the side.