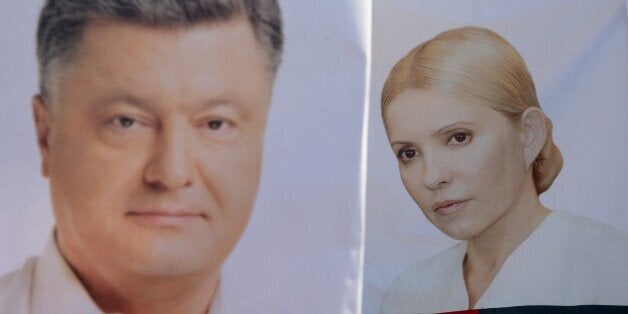 Major civil unrest is likely to impede the voting in Ukraine's first presidential election since violent protests toppled the country's pro-Russia president and pushed the country to the brink of civil war.
The country has been run by an interim administration after the ousting of President Viktor Yanukovych following weeks of bloody unrest.
This Sunday, Ukrainians should have to decide on what line to take, a pro-Europe, Maidan movement candidate, or a closer union with Moscow, but that choice is unlikely to be taken by many in the Russian-speaking east, who will boycott the poll.
Several southeastern regions are under de facto control of pro-Russian militias, with Donetsk and Luhansk declaring themselves "independent people's republics". Security forces will put the most volatile areas in lockdown, with the country divided into white, pink and red zones corresponding to the most violent areas of the nation.
The two eastern regions account for 14% of voters, with rebel leaders there saying they had no interest in the elections of a "neighbouring state". On Saturday, Pavel Gubarev, self-appointed leader of the Donetsk People's Republic, said the two states would take steps to create Novorossiya, or New Russia, the name eastern Ukraine was called in the 19th century. Six more regions — Nikoyayev, Odessa, Dnepropetrovsk, Kharkiv, Zaporozhie and Kherson - are being called on to join the new state.
More than 900 observers will monitor the election, and the US government has given $11.4m to the authorities to run a "free and fair" poll.
There are 21 candidates in the race for President, but just two have a significant enough groundswell of support, confectionary magnate Petro Poroshenko and former prime minister Yulia Tymoshenko. Poroshenko is leading by a large margin. If necessary, a run-off between the two leading contenders will be held June 15.
Russian president Vladimir Putin has promised that his country "will treat any choice of the Ukrainian people with due respect."
Despite calling the ousting of Yanukovych an "anti-constitutional coup d'etat", he added: "We are going to treat the choice of the Ukrainian people with due respect and we are going to work with the authorities that are going to be shaped based on the elections."
Here are the key candidates taking part in Sunday's run-off:
Popular in the Community