British actor Timothy Spall has walked away a winner from this year's Cannes Film Festival, scooping the Best Actor prize for his portrayal of artist J.M.W. Turner in Mike Leigh's film 'Mr Turner'.
The announcement was made at the Cannes Closing Ceremony, where Timothy expressed his surprise at winning the highly-coveted award.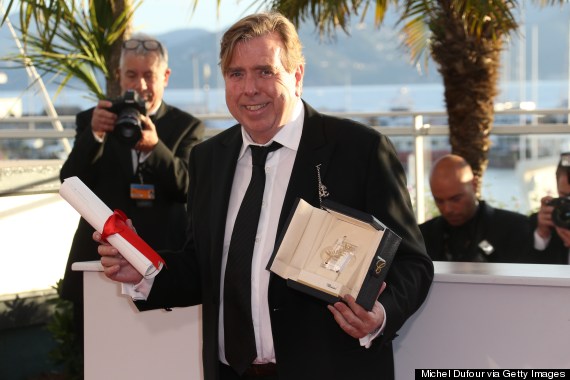 Timothy Spall poses with the Palme D'Or Prize
Speaking to a room full of Hollywood's biggest stars, directors and producers, Timothy said: "I've always been the bridesmaid at these awards. I've been nominated for BAFTA awards but never won. Now I'm the bride and this is my wedding breakfast!"
Timothy had travelled to Cannes earlier in the week for his film's premiere, however shortly afterwards he left the South of France, heading towards Holland by boat with his wife.
It was there that he received a call from one of the festival officials stating he should return to France, though they could not tell him why.
Timothy explained the situation to the Daily Mail, stating: "I said ,'Why' and he said,'I can't tell you why, just come back'."
When Timothy and his wife Shane made it to Nice airport, he noticed everyone was behaving unusually.
"There were two police outriders doing wonderful Gaelic hand signals to tell people to get out of the way," he told the paper.
"They still hadn't told me what was going on and I said to Shane: 'This seems to be slightly different from normal, darling'."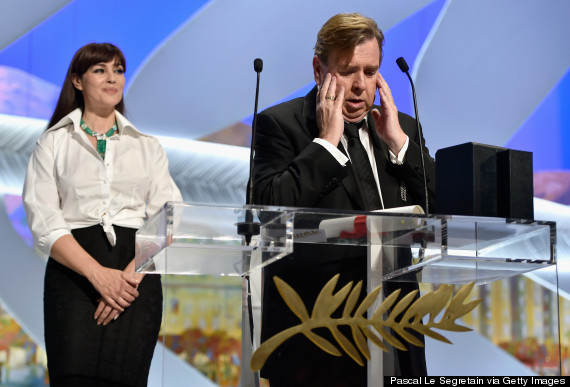 Timothy gave an emotional acceptance speech
"My acceptance speech went on a bit and I couldn't help blubbing up there thinking about what I'd gone through to get to that moment," he added.
"It was Shane, the family and working with Mike Leigh and the hundreds of people who'd put their hearts into the film'."
Critics have already begun speculating over who will be nominated for the Oscars in 2015, and Timothy's Cannes win makes him a hot favourite.
While Timothy's movie received plenty of praise at the festival, not every star was as successful.
Nicole Kidman drew criticism for her star turn in 'Grace Of Monaco' while Ryan Gosling's long-awaited directorial debut 'Lost River' was met with mixed reactions.
LIKE US ON FACEBOOK | FOLLOW US ON TWITTER