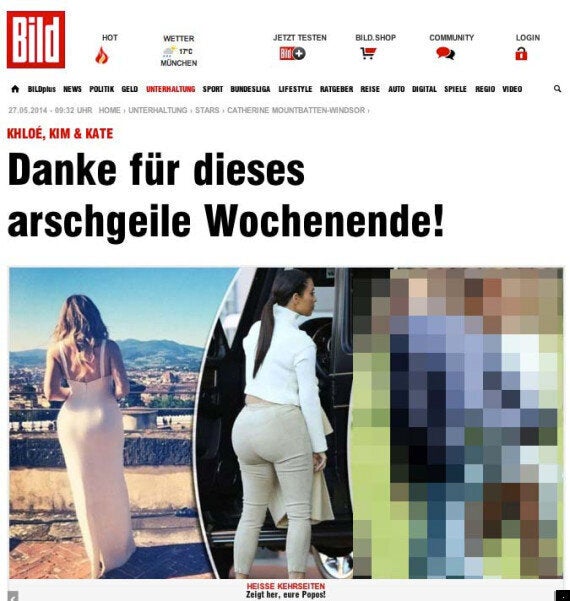 Controversy: An image of the Duchess of Cambridge's bottom appeared alongside images of Kim Kardashian and her sister Khloe in the German newspaper Bild
A picture of the Duchess of Cambridge's exposed her bare bottom has been published online by a German newspaper, in a move likely to spark another privacy row between Clarence House and members of the European media.
The image of the royal bottom, described as "notorious", was taken during the recent Royal tour of Australia. The photographer captured the revealing shot after wind from a helicopter blew up Kate's skirt whilst her and the Prince were visiting the Blue Mountains near Sydney.
The feature is padded out with more photographs of the Duchess' rear, taken in other wind-related wardrobe malfunctions, alongside a series of celebrity "belfies" from the likes of the ever-inspirational Kim Kardashian.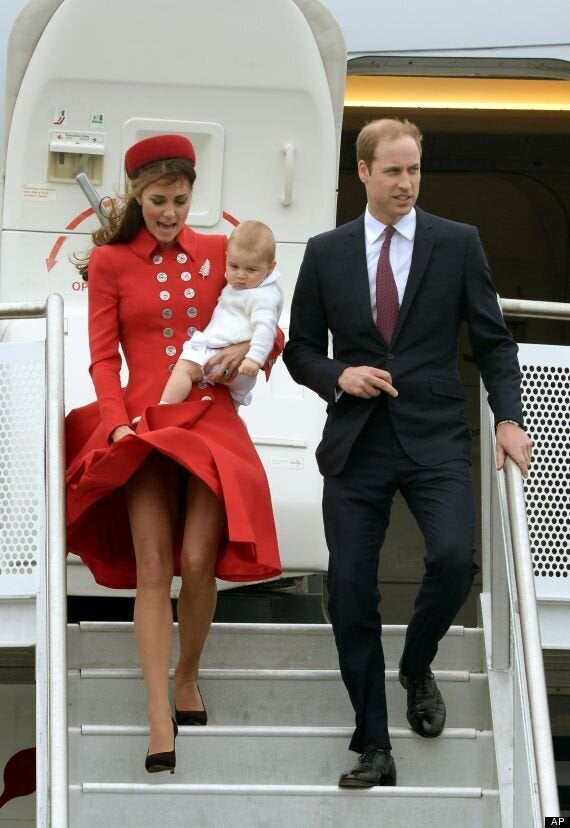 Close call: Prince William and the Duchess of Cambridge of Cambridge arrive in Aukland, New Zealand
Risking the wrath of the royals, Bild published the shot in an online editorial, alongside similar pictures from a Royal tour of Canada in 2011.
The feature states: "Photos show our favourite Duchess Kate, 32, in the Australian Blue Mountains. The rotor blades of the royal helicopter swirl the air so that Kate's summer dress blew up – giving a clear view of her beautiful bum!" The headline reads: "Clothes ban for Kate?"
The photographs have sparked comments online about why Kate doesn't wear weights in her hems like the Queen to avoid future wardrobe mishaps.
The Duke and Duchess of Cambridge have been dragged into a series of privacy rows with the foreign press in recent years after photographs were published of Kate in a bikini while she was pregnant, and topless while on honeymoon.
In February last year, Italian and Australian magazines published photographs of Kate with her bump on display while she walked along a beach on the secluded Caribbean island of Mustique.
In 2012, the Prince and Duchess launched a legal case against French magazine Closer that published topless shots of the Duchess taken while she was on holiday in Provence Chateaux. Clarence House releases a statement comparing that publication with the "worst excesses of the paparazzi during Diana's life."
The magazine's editor was unrepentant, saying the resort's pool was in full view of a public road and easily seen by the public. However, Chateau d'Autet has a secluded woodland setting, and is hundreds of metres from the closest public road – so the royals were in ''full view'' only as long as they were being viewed through a large telephoto lens.
So far, Clarence House has refused to comment on the Bild picture, which British papers reportedly refused to run.
A source told The Mirror the household would ask publications to use their discretion when it came to using the pictures.
Others, meanwhile, reacted to the news on Twitter: