Outplayed for the majority of the match, United rarely looked like extinguishing Mario Basler's sixth-minute free-kick until the dying embers of the game. Yet as they charged forward in desperation, Bayern broke regularly. Mehmet Scholl hit the post, United goalkeeper Peter Schmeichel denied Stefan Effenberg and the imposing German striker Carsten Jancker hit the Dane's crossbar with an overhead kick.
United, though, had not lost a game of football in over five months and that calendar year had developed a knack for late rallies. Dwight Yorke's equaliser in the 88th minute and Ole Gunnar Solskjaer's 90th minute winner in the FA Cup fourth round left Liverpool players and supporters decimated, Yorke stooped in stoppage-time to net a valuable winner at Charlton and Ryan Giggs had salvaged hope with a last gasp equaliser in the Champions League semi-final first leg versus the mighty Juventus of Zidane, Davids, Conte and Inzaghi.
"Manchester United never lose, they just run out of time," said Steve McClaren, who arrived at Old Trafford to assist Ferguson in February 1999. They were running out of time against Bayern.
One-nil down, the fourth official informed the 90,000 inside the stadium and millions watching around the globe there would be three minutes of added time. David Beckham, one of United's better performers, darted from the right wing to the left and invited Gary Neville, joining him on the opposite flank, to cross with his left foot. Effenberg slid at the near post to cut out the tame effort and concede a corner.
It was at that moment Beckham noticed the European Cup was decorated in Bayern ribbons. George Best had already vacated his seat. ITV commentator Clive Tyledesley, like United, had started the evening badly when he erroneously said Basler's free-kick had deflected in. And, like United, he was about to experience the finest three minutes of his career. Over to him and Ron Atkinson...
"Can Manchester United score? They always score!"
"The big goalie's coming up."
"Peter Schmeichel is forward."
"Can he score another in Europe, he's got one already."
"Beckham... in towards Schmeichel, it will come for Dwight Yorke. Cleared. Giggs with the shot... SHERINGHAM! Name. On. The. Trophy."
McClaren suggested to Alex Ferguson they revert to a more cautious formation in extra-time. Ferguson told him the game wasn't finished.
Basler and Lothar Matthäus' arrogance as they were substituted only contributed to the drastic momentum swing. Matthäus, who had never won a European Cup, had shielded Bayern's back four superbly and his withdrawal was something of a surprise. The TV cameras had caught his numb reaction to Sheringham's equaliser; an amalgam of rage, disbelief and powerlessness. It was about to get worse for him.
Solskjaer drew Samuel Kuffour out wide and smacked the ball against him to win another corner. Beckham, enjoying the season of his life a year on from when an effigy was strung up outside a pub following England's World Cup elimination in France, raced over.
"You have to feel this is their year," Tyldesley cried.
"They must be playing defensive, Schmeichel's not coming up for this one."
"Is this their moment? Beckham... into Sheringham... AND SOLSKJAER HAS WON IT!"
While United's players - and substitutes - mobbed Solskjaer, referee Pierluigi Collina attempted to revive Bayern's. Michael Tarnat and Scholl were motionless and leaning against the posts, Oliver Kahn was collapsed in a heap and Kuffour, who had marked Solskjaer so tightly he was pulling his shirt a second before the Norwegian's winning volley, was sobbing uncontrollably.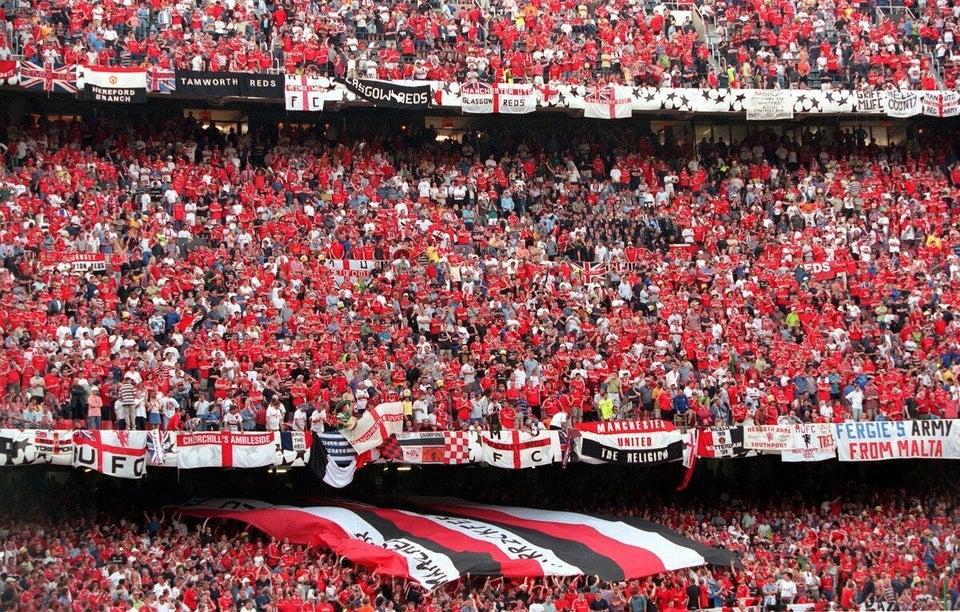 Manchester United's Treble triumph