In the six decades since Everest was conquered, there have been hundreds of accounts of how it took a New Zealander to climb the world's highest peak and claim the mountain for the Commonwealth, with the news helpfully arriving in England on the morning of the Queen's coronation.
What sets 'Beyond The Edge' apart is the intimate footage of the small group that set off from base camp in Nepal in 1953, and the 600 Sherpas that carried all the gear and made it happen.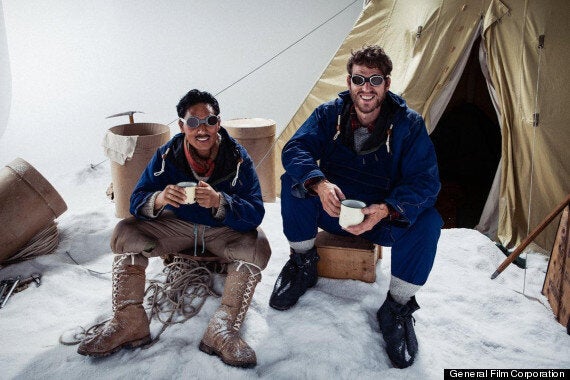 Sonam Sherpa and Chad Moffitt take the roles of Tenzing Norgay and Edmund Hillary in this real-life thrillseeker
Through both the jumpy show-reel and the memories of the group, we get to see Hillary through the eyes of his peers – big, bearded, grinning and jumping into icey rock pools with typically Antipodean sang froid. He was clearly a special case.
We learn, however, that it was never meant to be this boys-own adventurer who made the first ascent on the peak, but, instead, a pair of Brits despatched from home.
Circumstance dictated, however, that it would be the rangey Kiwi whose foot first went down on that little piece of earth nearest the gods, accompanied by Tenzing Norgay - this despite a near-fatal mishap on the way up, recreated in dramatic 3D by the filmmakers.
We don't hear from this incomparable Sherpa, but we see his huge grin caught again and again on camera. It is left to his son Norbu to describe his father's rare qualities, whose fitness and canniness took him to the top of the mountain alongside Hillary, and his own place in history.
From Edmund Hillary and his son Peter, we hear just how joyful the experience was, and important to the Kiwi that no individual glory be handed out to either men, but that the feat always be seen for the double act it was.
A must-see for mountaineers everywhere, as well as those after the palpable taste of a unique adventure.
'Beyond the Edge' is in selected UK cinemas now. Watch the trailer below...