Meriam Yehya Ibrahim delivered a baby girl five days prematurely in prison on Tuesday.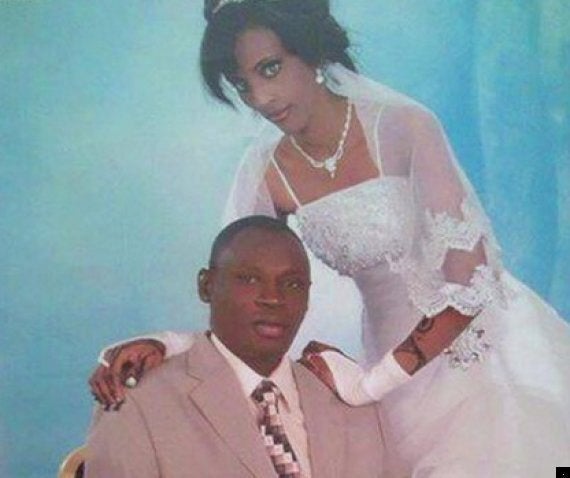 Meriam Yehya Ibrahim (pictured here with husband Daniel Wani) has given birth to a baby girl in a Sudanese prison
Her lawyer told the newspaper: "This is some good news in what has been a terrible ordeal for Meriam. I am planning to visit her with her husband Daniel later today."
Amnesty International UK confirmed the birth to Huffington Post UK and said Ibrahim is already back in the shackles and chains she had previously been held in, though it is not know if she was forced to give birth under these conditions.
The human rights organisation said it would continue to appeal for her immediate release.
Kathy Voss, Amnesty UK's Individuals at Risk Campaigner, said: "There are now three innocent people in that cell.
"The way Meriam has been treated is sickening, and it has appalled the world. She has been kept shackled and alone whilst heavily pregnant, and she now faces being returned to that cell with a newborn child, still under a sentence of death.
"This really is the stuff of nightmares."
The 27-year-old was sentenced to death by hanging for apostasy and flogging for adultery by a Sudanese court after refusing to renounce her religion.
She is being held along with the 20-month-old son she also has with husband Daniel Wani.
"It's just outrageous. She's eight and a-half months pregnant."
Wani is appealing his wife's execution, which officials said won't be held until after Ibrahim gives birth and nurses her infant.
The father is not even allowed to care for Martin because he is a Christian and his son is considered a Muslim.
Wani now lives in Manchester, New Hampshire with his brother Gabriel, who told WMUR that his sibling had returned home to do everything he could to save his wife.
Sudan has a majority Muslim population, which is governed by Islamic law. It rules that apostasy - the abandonment of one's religious faith - is a crime.
"The fact that a woman has been sentenced to death for her religious choice, and to flogging for being married to a man of an allegedly different religion is appalling and abhorrent," Manar Idriss, Amnesty International's Sudan researcher, said in an earlier statement.
"Adultery and apostasy are acts which should not be considered crimes at all. It is flagrant breach of international human rights law."
Earlier in the hearing, an Islamic cleric spoke with Ibrahim in a caged dock for about 30 minutes, AFP reported.
Then she calmly told the judge: "I am a Christian and I never committed apostasy," NBC news reported.