Fears over immigration and the impact of the 9/11 terror attacks are likely to have fuelled rising levels of racial prejudice over a decade, according to a study that has shown in increase in the number of people who admit to being prejudiced.
These latest findings come after self-reported racial prejudice fell in the 1980s and 1990s from a high of 38% in 1987 to a low of 25% in 2001.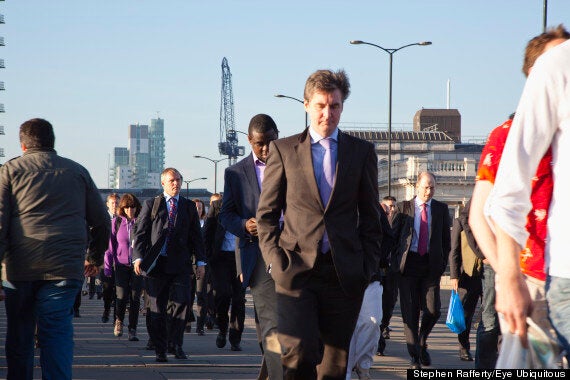 The survey said nearly a third of Britons admitted to prejudiced feelings
The figure then rose to 38% by 2011, before falling back to 26% in 2012, possibly as a result of the impact of the London Olympic Games.
The area least likely to self-describe as racially prejudiced was inner London, at 16%, with the West Midlands the most likely at 35%.
Penny Young, chief executive of NatCen Social Research, said the "marked turning around" in the figures after 2001 suggested the change could be linked to the impact of the terrorist attacks in September 2001 in the US.
She added that fears over immigration were another likely contributing factor. Up until 2001, she said, the decline in self-reported racial prejudice had seemed "inexorable".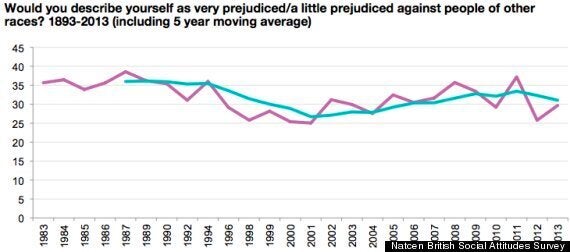 Britons' prejudice fell during the Olympics, the survey also showed
"Back in 1983, when we started British Social Attitudes, it looked as if it was an inexorable decline, it looked like as if it was part of increasing socially liberal Britain, so things like attitudes towards same-sex marriage, having children before marriage and so on, they were all going in one direction," she told Bthe Today programme.
"On this trend, in about 2001, it seemed to change, and we think there are probably two possible things that are driving this.
"One, it was a very marked turning round in 2001, so it may well be an impact of 9/11, that people started to feel more fearful, or to do with people feeling concerned about the impact of immigration in their own area or being fearful of the impact of immigration in their own area."
Levels of racial prejudice rose with age, with 25% of 17 to 34-year-olds describing themselves as racially prejudiced in comparison to 36% of over-55s.
Education had an impact on views with 19% of those with a degree reporting racial prejudice, and 38% of those with no qualifications.
Just over nine in 10 of those who admitted to some level of racial prejudice said they would also like to see a reduction in immigration levels, compared with around seven in 10 who said that were not prejudiced at all.