Here's how to amass more than 100,000 twitter followers in less than a week – cash money of course.
An anonymous benefactor has been leading a social media scavenger hunt by tweeting cryptic clues as to where he has left envelopes stuffed with cash.
The money drops are currently taking place in San Francisco but the mystery philanthropist – who is using the twitter handle @HiddenCash – says future bundles of dollars will be deposited in Los Angeles and San Hose.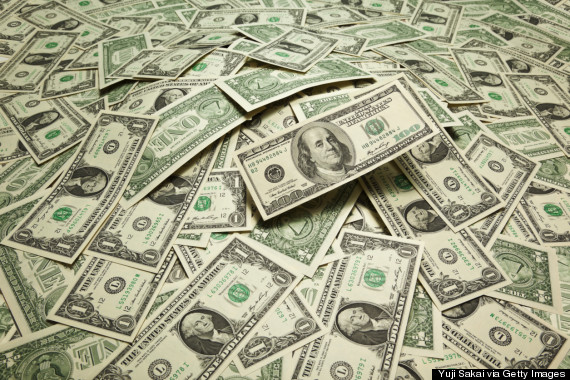 I've got a pocket full of pretty green (or I will have, if I join @HiddenCash's treasure hunt)
By Tuesday, it's estimated $5,000 had been deposited in various hiding places around the city.
But who is this generous yet shadowy patron?
Well, he continues to remain incognito, though what we can tell you is he is a male real estate magnate aged between 35 and 45-years-old.
He told TIME via email: "I have made my fortune in real estate and have been able to accumulate multiple properties, whereas so many people can't afford to buy a house or even a small condo in San Francisco.
"People who work just as hard or harder than me. So I wanted to give back… But I also wanted to do something that would give back in a fun way, and get people involved."
At time of press, the @HiddenCash twitter account has amassed more than 120,000 followers in just six days. And even he is a little taken aback by how quickly his little experiment has taken off, tweeting: "Frankly, a little overwhelmed with requests for media and cash. It hasn't even been a week. Wow."
Frankly, a little overwhelmed with requests for media and cash. It hasn't even been a week. Wow.

— Hidden Cash (@HiddenCash) May 27, 2014
He added: "My messages for the 'haves' is to be a little more generous and to give back more.
"I know so many wealthy people who are selfish and greedy and just want more, more, more. When is it enough? When will you be satisfied?
"Take a step back, relax and give back a bit. Putting smiles on other people's faces will put a smile on your face. Believe me."
And it seems his advice is being taken on by at least some of the treasure hunters.
Some recipients of the cash have tweeted their intentions to spend their dollars on rounds of drinks, pizzas for co-workers and simply share it with their friends.
As for @HiddenCash, he has claimed he'll continue his little game until he has distributed a six figure sum. And if that doesn't put a smile on your face…