The First Minister of Northern Ireland Peter Robinson has said he would not trust Muslims "devoted to Sharia law" and appeared to back a controversial pastor who described Islam as "heathen" and "satanic".
The remarks have been criticised by the Secretary of State for Northern Ireland Theresa Villiers, who called Pastor James McConnell's remarks in his sermon "wrong and totally unjustifiable".
Pastor McConnell of the Metropolitan Tabernacle in north Belfast is being investigated by police for the comments he made a fortnight ago at a sermon, telling the congregation "Islam is heathen, Islam is satanic, Islam is a doctrine spawned in hell."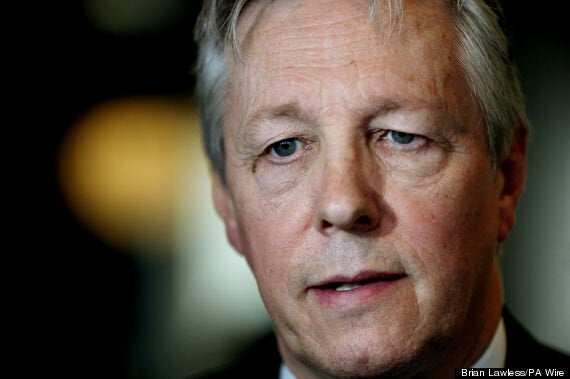 The First Minister of Northern Ireland Peter Robinson has said he would not trust Muslims who were "devoted to Sharia law"
"Enoch Powell was a prophet, he called it that blood would flow on the streets and it has happened," he said, referring to the famous 1968 speech.
"Fifteen years ago Britain was concerned of IRA cells right throughout the nation," he said. "They done a deal with the IRA because they were frightened of being bombed.
"Today a new evil has arisen. There are cells of Muslims right throughout Britain, can I hear an Amen, right throughout Britain, and this nation is going to enter into a great tribulation, a great trial."
Robinson has attended the evangelical church in the past, and told the Irish News there "isn't an ounce of hatred in his (the pastor's) bones" and that it was a duty of a preacher to denounce "false prophesy".
Asked he would trust Muslims, Robinson said he would be wary of those "fully devoted to Sharia law, I wouldn't trust them for spiritual guidance". But he would trust a Muslim to "go down to the shops' for him" and in other "day-to-day issues".
Villiers condemns Pastor McConnell's comments about Islam were "wrong, totally unjustifiable and damaging to community relations," her office told HuffPost on Wednesday.
"As his comments are now being investigated by the police it would be inappropriate to comment further," a spokeswoman said.
Villiers told UTV that it would be "likely"" that she and the First Minister would discuss the issue. "From what I gather, his remarks were not without qualification," she told UTV.
Deputy First Minister Martin McGuinness of Sinn Féin said Robinson should show a better standard of tolerance.
He was one to talk, Robinson pointed out on Twitter:
"The First Minister's support for pastor James McConnell is deeply disappointing," Fiyaz Mughal, the founder of anti-Islamophobia monitor Tell MAMA.
"Pastor McConnell's... corrosive comments do not help the integration of communities, nor do they help Muslims in Northern Ireland feel accepted or even acknowledged with some dignity.
"The First Minister is bound by legal and moral duties to ensure equality in Northern Ireland. Now is the time to show his commitment to equality and integration instead of sending out a weak message that can be read as keeping the pastor's support base on side."
Khalid Anis from the Islamic Society of Britain told BBC Radio Ulster's Nolan Show that he was shocked that a prominent politician in a position of leadership can speak "with such a double tongue".
Respect MP George Galloway said Peter Robinson's comments "render him unfit to be the first minister".