James McArthur has had his 2013 FA Cup winners' medal stolen during a burglary at his home in Wigan.
Offenders broke into the Wigan Athletic midfielder's home sometime between Tuesday 20 May and Monday 26 May.
As well as McArthur's medal, which he won when Wigan beat Manchester City 1-0 at Wembley last year, two wedding rings were stolen in the raid.
Detective Constable Kevin Telford said: "Understandably, Mr McArthur and his family are devastated someone has broken into their private property and stolen their possessions.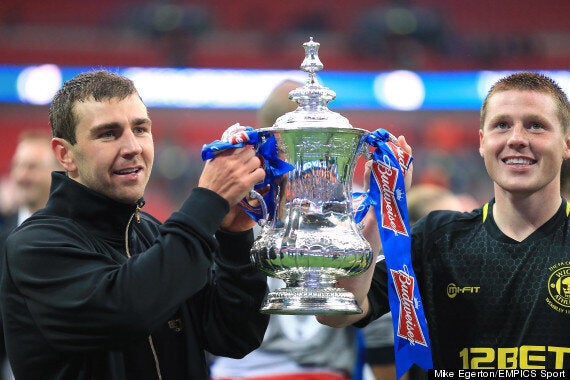 McArthur (left) started the 2013 FA Cup final in midfield
"Not only has an FA Cup medal been stolen but two rings that were going to be used in Mr McArthur's wedding have been taken. They are of huge sentimental value to them and while the rings can be replaced, the medal is something that cannot.
"It is unlikely the offenders will keep hold of the medal and may try to sell it on. Obviously, it is unusual for such an item to come on the market so I would ask anyone who is offered the medal or who has any information as to where the items are, to contact police."
McArthur said "I am devastated about the burglary at my home. My cup final winners' medal has been stolen as well as my wedding rings.
"I am due to get married in the near future and this is an awful thing to happen to us before the wedding. If anybody has any information as to where my property is and can help the police return it to me, I would be very grateful"
Anyone with information should phone police on 0161 856 7259 or the independent charity Crimestoppers, anonymously, on 0800 555 111.