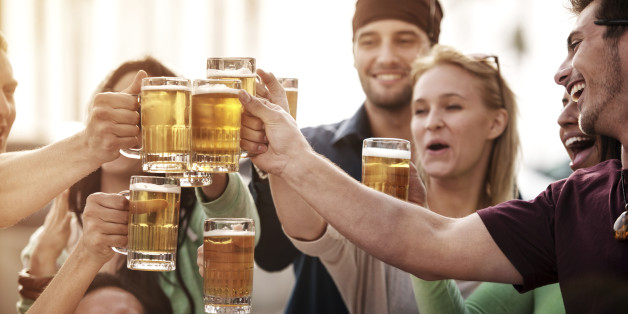 Lise Gagne via Getty Images
Universities cracking down on student binge drinking by enforcing new rules to try and ban pub crawls, drinking games and alcohol-related "initiation" ceremonies.
Universities including Royal Holloway, Loughborough and Nottingham have signed the new NUS Alcohol Impact project which aims to tackle student binge drinking and the culture of alcohol on campus, however this may prove controversial among students, many of whom believe initiations are a great way to make friends.
By signing the agreement, the universities will reduce the amount of advertising alcohol on campus and refuse to serve drunk students. They will also create a late night 'cafe culture', a European idea that will attempt to tempt students away from pubs and bars.
Other universities have signed up to the Home-office backed project's pilot year, are Swansea University, Manchester Metropolitan University, University of Brighton, Liverpool John Moores University and University of Central Lancashire.
In order to win accreditation, the universities will have to employ strict rules and boundaries on drinking games, pub crawls and the infamous alcohol-related initiation ceremonies. Initiations to university sports teams have consistenyl received bad press. Initiation horror stories have affected many students, including 18-year-old Gavin Britton drank himself to death on a golf society social at Exeter University. By registering with the NUS Alcohol Impact programme, these universities will aim to prevent the damage binge-drinking culture can have on students.
However some students find the initiation ceremonies a fun way to break the ice to make new friends. "I don't know whether you'd count dance society as a sport but the initiation was more fun than anything else," University of Sheffield student Alice Preston-Jones to The Independent earlier this year. "We got to know people really well and had a great time. I guess the pressure was to drink, which I didn't mind but would have put me off if I didn't like drinking. We could stop if we wanted and generally had a really good laugh."
NUS Vice-President (Welfare) Colum McGuireis in favour of the home-office backed programme. He said that the project has the welfare of the students as its core value but will also benefit community relations: "We hope that the work of the project will allow us to create a social norm of responsible consumption by students at the pilot institutions, changing attitudes and behaviours towards alcohol, leading to safer and more productive places to live and study."
As well as student-welfare, the project is also aiming to tackle the amount of alcohol-related crime. Crime Prevention Minister Norman Baker has said that 'some students find themselves encouraged to participate in alcohol-fuelled activities which can damage health and in some cases spill over into disorder and anti-social behaviour." Baker says that the project will encourage more responsible drinking to deal with this issue, stating that universities should be proud to receive accreditation of the project deeming it a "badge of honour."
The NUS will monitor the success of the scheme using surveys to compare student experiences of crime and disorder during the pilot.
What do you think? Is the alcohol culture at your university a problem? Are you at one of the universities who have registered to the project? Have your say @HPUKSStudents