England defeated Peru 3-0 in their Wembley World Cup send-off through a stunning Daniel Sturridge opener and goals from Gary Cahill and Phil Jagielka.
Here are five talking points...
Perhaps Roy Hodgson was testing Danny Welbeck. "I'd like to play centrally," he said this week. "I've been playing on the left for a while and it's got to the time where I want to stake a place up front." England supporters' reaction to Welbeck's inclusion was a negative one, and he did little to quell their outrage on the wing. The clamour for the raw Raheem Sterling to start meant Welbeck's performance would be scrutinised more than his teammates, and however much he now abhors starting on the left, he has worked tirelessly playing there before. Yet there was a lack of appetite from the Longsight lad on this admittedly uninspiring evening.
Three managers - Hodgson, Sir Alex Ferguson and David Moyes - have been unable to resist Welbeck's gamely gumption and although he does excel in a central role, there are always two superior strikers ahead of him. In the first-half against Peru, he delivered the kind of display which could jeopardise his starting berth against Italy two weeks on Saturday. He improved up front, though, in after Daniel Sturridge and Wayne Rooney were substituted. The message could not be clearer.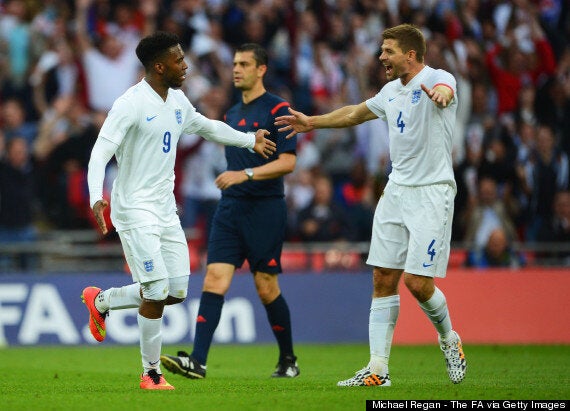 Sturridge scored his best England goal yet with a curling left-footer
ENGLAND NEED OXLADE-CHAMBERLAIN
Prosaic friendlies are an unreliable barometer of a team's dynamism, and judging by the paper airplanes that flew around Wembley, England were not as bold as Hodgson's squad selection had suggested they would be. Bereft of Sterling on the wing, Adam Lallana was the third man alongside Steven Gerrard and Jordan Henderson, when Alex Oxlade-Chamberlain needs to be tested alongside the Liverpool duo.
Before his season was ended by a groin injury in April, Oxlade-Chamberlain looked likely to break into the England starting XI. Although Lallana is arguably a better technical player, he is not as pacy or direct as the Arsenal man, whose need for game-time makes his inclusion in the remaining pre-World Cup friendlies essential.
ROONEY IS TOO IMMOBILE TO BE THE NO.10
Paul Scholes questioned whether Roy Hodgson had the "balls" to drop Wayne Rooney last week and while that is unlikely, there needs to be a re-think regarding his position. Rooney should have matured into a world-class No.10 but he is simply too immobile to supplement the England attack and his best seasons have come as the lone centre-forward. This might not suit Sturridge, yet he has played second fiddle to Luis Suárez spectacularly at Liverpool. Rooney is not as nimble or electric as the Uruguayan and if England are going to play at a higher tempo - admittedly unlikely under a coach as cautious as Hodgson in South America - his place could finally be in jeopardy.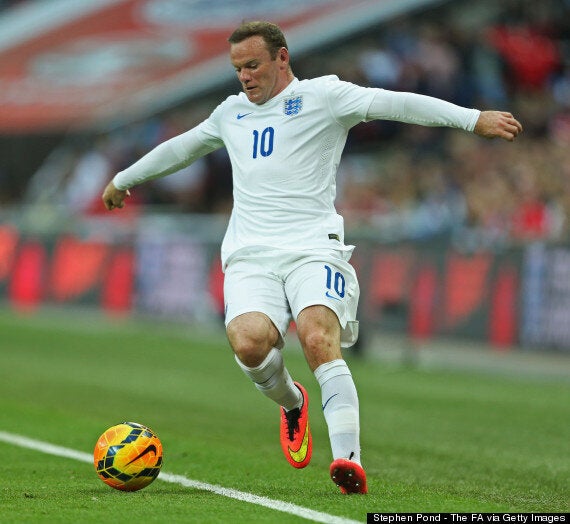 Rooney was unconvincing alongside Sturridge
Kyle Walker is injured, right-back-by-trade Jon Flanagan has excelled at left-back and Chris Smalling should only be fielded on the right in an emergency. You could argue the very presence of Glen Johnson at right-back constitutes an emergency, and he stuck out as England's weak link like a British sunbather on Copacabana Beach. Little has changed from four years ago; Johnson remains an asset in attack and an ass in defence, and he was unreliable in possession against the Peruvians. Starting James Milner, despite his lack of pace, at right-back is a sensible alternative.
Not only were there paper airplanes, but there was the returning Mexican wave, too, which the great Brian Glanville described as "objectionable infantilism". Plenty of grounds in English football are soulless bowls laden with fans as plastic as the clappers they receive, but nothing compares to Wembley when it hosts an England international friendly. It is about as likely as an England World Cup win, but it would be preferable if the Three Lions played at stadiums around the country again.