It could arguably have been a new Ricky Gervais show. It was not. Channel 4 went to meet a police commissioner for a fly-on-the-wall documentary and it went horribly, horribly wrong.
Ann Barnes, PCC for Kent, has now said it was not her intention to attract bad publicity to the county's police officers and staff after she starred in the "farcical" show.
Incredulous viewers of last night's Meet The Police Commissioner programme said the ex-teacher was an "embarrassment" to Kent Police.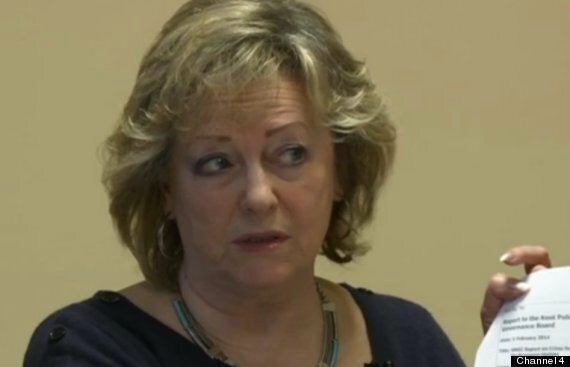 In the hour-long show, Ann, who travels around in a van she dubs "Ann Force 1", struggled to explain what her £85,000-a-year role actually involved.
Amid accusations that she spent £15,000 on "Ann Force 1," she said: "My budget is £317m. £15,000 is money well spent. I could have had a top range Mercedes, but it's not my image." She was then filmed driving to work in a Mercedes. Really.
The documentary also showed Ann painfully struggling to come up with an approach to policing priorities called "the onion" and bringing her dogs into the office.
She proudly displayed a flipchart to viewers, on which she had hand-drawn a very complex diagram of circles.
"These are all the various things, different kinds of policing, OK, in Kent," explained Ann.
Vaguely waving a hand in a circular motion around the circles, she added: "And these are the different kinds of policing priorities, in terms of priority." Erm.
But, God forbid, what would it mean if a crime was committed outside of this diagram? "Oh God, no idea, I can't tell you actually, I mean I wasn't thinking I was going to talk about the onion as we call it. Erm, oh, I don't know really [shakes head]. Everything's important."
Ann also failed to write her title correctly on the same ill-fated flipchart: "Oh dear, what is a police commissioner? Right, well, the police commissioner … it's not the police commissioner, it's the police and crime commissioner, it's PPC."
Reflecting on her scrawled notes, she realised with horror that that's not her job title at all. "It's police … sorry, PCC, let's try that one again [flips over a new blank page] Well, it's a strange job this, it's a strange role, there's actually no job description at all."
On Twitter, viewers were quick to note Ann's similarity to The Office's David Brent.
In one, incredible car crash scene, Ann went to Asda for a meet and greet.
Now, anyone who has actually been to an Asda knows that it is not the ideal location to meet and greet anyone, but Anne really tried – "girl power!" she shouted enthusiastically to one terrified shopper.
She was also filmed painting her "flaky" nails and compared her force to a tin of paint that she wanted to "prise" open.
Was it cruel TV, edited to make Ann look totally incompetent? Perhaps. But Twitter users were united in their disbelief that the documentary was actually showcasing a real person elected into public office.
But Ann has hit back, saying "it was never my intention to draw adverse publicity to the excellent work being carried out by officers and staff in often very difficult circumstances."
Ann, who was elected in 2012, said she was concerned by claims that her appearance had damaged the reputation of Kent Police.
And she said she was disappointed that the programme focused too much on her, rather than the work of her office.
In a statement on her website, she said: "Many people have given their views on the programme and have speculated about my motivation for doing it.
"The only reason I agreed to do the documentary was to help people to better understand the job of a police and crime commissioner.
"The decision to let a film crew examine the work of the office for four months was not one I took lightly. I hoped it would give an insight into what is being done to help achieve the best possible police service for Kent.
"The film does go some way to addressing the complexities of the job and illustrates some of the challenges involved.
"But I am disappointed that there is too much emphasis on me as an individual and not enough on the work of the office.
"I know that much of what the office has achieved was filmed and I am frustrated that these scenes did not make it through to the final version."
She listed achievements, including addressing concerns about crime recording, developing a new victims' centre and investment in body-worn cameras and digital devices.
Ian Pointon, chairman of the Kent Police Federation, which represents rank-and-file officers said it was a "horrendous hour of television."
He told BBC Radio Kent: "I think it was probably a disaster from start to finish, in fairness.
"It was an ill-advised concept and from within Kent Police I know that Mrs Barnes was advised not to do it. It was never going to end well.
"I think, sadly, it has turned Kent Police by association into something of a laughing stock. Social media was alight with comments."
Related