Unfortunately in the world of childhood, things are still very blue and pink. So with girls playing in their plastic kitchens and dressing up dolls, where do dads fit in with playtime?
Author Mark Frauenfelder has come up with a genius idea: DIY with dad. And no, we're not talking about fixing light sockets or removing grout.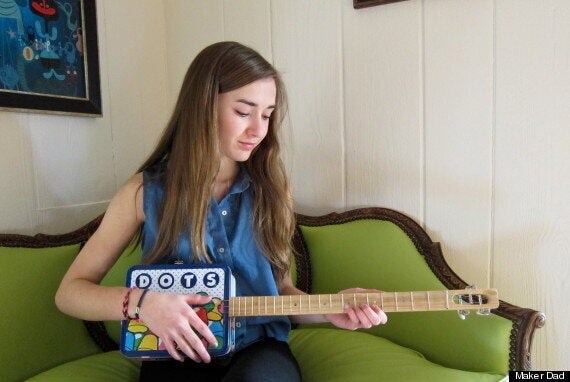 Talking to HuffPost UK Lifestyle, he said: "I wanted to do fun projects with my two girls but the books for dads and sons didn't appeal it them. And the girls' craft books didn't appeal to me. So I decided to create projects we'd both like to do.
"It is meant for adults to read first, and then they can make the projects with their kids. But most 12-year-olds would have no problem reading the book and doing most of the projects on their own. The book is full color, with large photos and easy to read step-by-step instructions. "
Between work and home, life can extremely hectic. So there's no judgement against parents who pop their kids in front of a screen, be it TV or iPad.
But, Mark says, the problem is that while he isn't against screen time, it doesn't prepare your kids to "think with their hands and interact with the physical world."
It's certainly a hit with his own two daughters. "I asked my 16 year old and she said the projects give her the opportunity to be creative and spend time with me doing something fun. My 11 year old told me she likes the book because "astronaut ice cream is yummy". We did the projects together. If they didn't enjoy something (or if I didn't) we didn't include it in the book!"
He also included electronics and programming projects in the book because he felt there was no reason not to introduce these skills to girls at an early age.
As for those of us who collectively groan at the pink/blue divide between the sexes, Mark says he has noticed a change.
"The tide is turning. When I go to Maker Faire I see ask equal number of girls and boys taking soldering workshops and other hard tech workshops."