London property is increasingly on the pricey side, and this "modern studio apartment" is no different, as the lucky tenant would be paying to live in a room that seems to barely fit much else beyond a bed.
This studio flat in Islington, on Kember Street, is billed as having a reception, kitchen and bedroom, when they are all basically the same thing, and you only have to pay £170 per week, or £737 per month, to live here.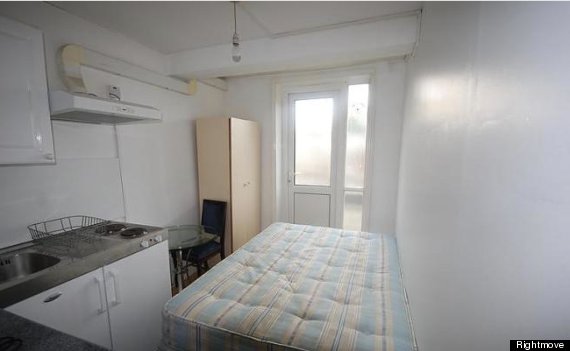 The studio also features an en-suite bathroom and "natural deco and laminated floor boards throughout" and is fully furnished, so you get something for your money. Someone has clearly recognised this as the flat was snapped up in half a day after being advertised.
A spokesman for estate agent relocate-me.co.uk, which is marketing the flat on property website Rightmove, admitted that the flat was "small". "A lot of people renting these apartments would be professionals just wanting a place to crash," he told the Huffington Post UK.
With admirable honestly, he added: "It's not something that's homely, not at all."
SEE ALSO: Squalid, Filthy And All Yours For Just £115,000 (PICTURES)

Earls Court Studio Flat Is Stupendously Small & Severely Expensive (PICTURES)
At least when the claustrophobia gets to you, you can escape to a (shared) balcony.