John Terry could replace Roy Keane as ITV's prized pundit at the World Cup finals in Brazil.
Keane, expected to be named Paul Lambert's assistant at Aston Villa, confirmed on Tuesday he would not travel to South America to concentrate on his coaching career.
And ITV have identified Terry as an 11th hour addition to their line-up for the tournament, which would pit him up against Rio Ferdinand, who will be working for the BBC.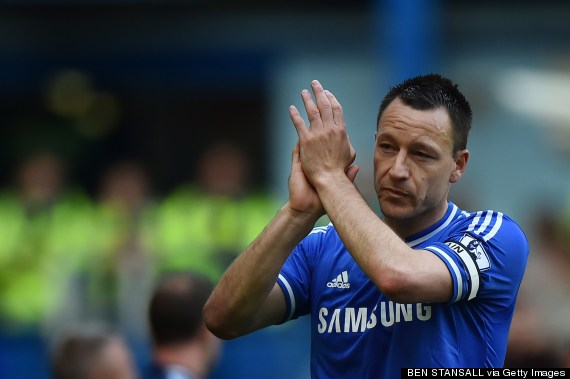 Terry signed a one-year contract extension with Chelsea last month
Terry retired from international football nearly two years ago, just days before the Football Association suspended and fined him for racially abusing Ferdinand's brother, Anton. The 33-year-old Chelsea defender claimed he was left in an "untenable position" by the FA.
Before the FA's charge, Terry was cleared in court of racially abusing Ferdinand, and the furore preceding his case appeared to impact Rio's England career, as he was overlooked in favour of Terry in Roy Hodgson's Euro 2012 squad.
Last month, Terry signed a one-year contract extension at Chelsea and David Luíz's impending transfer to Paris Saint-Germain has tightened his powerful role in the Blues' playing staff.
Despite his excellent form in José Mourinho's side last season, Hodgson resisted calls to return the centre-back to the England fold.