Home Secretary Theresa May has questioned Education Secretary Michael Gove over claims Islamic extremism was able to take hold at schools in Birmingham, asking why nothing was done when the allegations were first made.
The home secretary has called for tougher rules to prevent Islamic extremism in schools and questioned the education secretary's efforts to address the issue in a letter to him, asking: "Why did nobody act?"
In the letter, May said there had been concerns raised about the "inability" of local and central government to tackle the problem following the allegations.
She also questioned whether Gove's department had been warned about the allegations in 2010 and asked why nothing was done. Theresa May asked Michael Gove 'why did nobody act?'
In December, a cross-government task force on tackling extremism and radicalism recommended a voluntary code of conduct to prevent children being exposed to "intolerant or extremist views" in religious "supplementary schools" providing lessons outside mainstream education.
But May said the Birmingham allegations showed the potential need for a mandatory code and urged Gove to include that option in his consultation on the plans.
She said the allegations "raise serious questions about the quality of school governance and oversight arrangements in the maintained sector, not just the supplementary schools that would be signatories to this code of practice".
Three schools inspected over the alleged "Trojan Horse" plot by hardline Muslims to seize control of classrooms have been given a clean bill of health by Ofsted.
Ninestiles School - an Academy, in Acocks Green, Small Heath School, and Washwood Heath Academy, are the first to publish the results of their inspections, after Gove sent Ofsted in.
In all, 21 schools have been inspected after a letter, which is widely believed to be a hoax, referred to an alleged plot by hardline Muslims to seize control of governing boards in the city.
Park View Educational Trust (PVET) which has been the focus of the most damning allegations, issued a statement criticising "leaks" of other unpublished Ofsted findings being reported in the media, stating it was causing "unwarranted and unnecessary concern" for children and parents.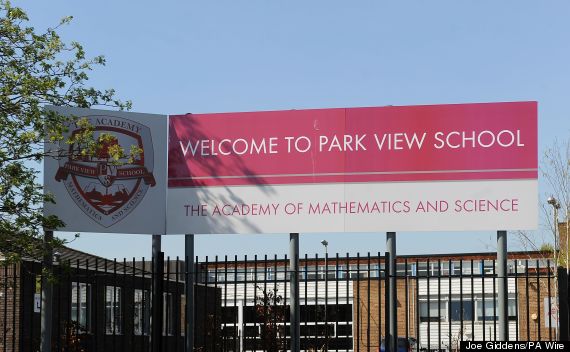 Park View, which has been investigated, has denied any wrong-doing
Park View, which runs three other city schools, has denied any wrong-doing, with trust chairman Tahir Alam calling the allegations "a witch-hunt".
May asked Gove: "How did it come to pass, for example, that one of the governors at Park View was the chairman of the education committee of the Muslim Council of Britain?
"Is it true that Birmingham City Council was warned about these allegations in 2008? Is it true that the Department for Education was warned in 2010? If so, why did nobody act?
"I am aware that several investigations are still ongoing and those investigations are yet to conclude. But it is clear to me that we will need to take clear action to improve the quality of staffing and governance if we are to prevent extremism in schools."
A Department for Education spokeswoman said: "The allegations made in relation to some schools in Birmingham are very serious and we are investigating all evidence put to us in conjunction with Ofsted, Birmingham City Council and the police.
"It is absolutely vital these investigations are carried out impartially, without pre-judgment.
"Ofsted has inspected a number of schools in the light of recent allegations and will report to the Secretary of State shortly.
"Retired senior police officer Peter Clarke has been asked by the Secretary of State to make a full inquiry into Birmingham schools and will report back this summer."
A source close to the Education Secretary said: "Michael Gove thinks Theresa May is a superb Home Secretary.
"We will continue to work well with the Home Office and other government departments to combat extremism in all its forms. Ofsted will publish their findings next week and Peter Clarke will publish his report in July."
Ofsted was slammed for being guided by an ideology "at odds with traditional British values" in its investigation.
In a letter to The Guardian on Wednesday, 20 educationalists said that "tarnished reports" and conflicting judgments have damaged the integrity of Ofsted's inspections process.
They said: "First-hand accounts of the Ofsted inspections that have emerged are disturbing. They suggest that inspectors were poorly prepared and had an agenda that calls into question Ofsted's claim to be objective and professional in its appraisal of standards in schools serving predominately Muslim pupils.
"Numerous sensationalised leaks have reinforced the perception of a pre-set agenda.
"It is beyond belief that schools which were judged less than a year ago to be outstanding are now widely reported as 'inadequate', despite having the same curriculum, the same students, the same leadership team and the same governing body."
An Ofsted spokesman dismissed the concerns in the letter, calling them "baseless".
He said: "Ofsted's chief inspector, Sir Michael Wilshaw, had personal oversight of these inspections, which were carried out in very challenging circumstances, and he is completely satisfied that his inspectors conducted themselves with great professionalism and integrity throughout the process."