A former colleague of a man suspected of killing three police officers has recalled hearing him speak about his desire to "go out with a bang".
Justin Bourque is being sought on suspicion of killing three members of the Royal Canadian Mounted Police (RCMP) and injuring two others during a shooting spree on Wednesday evening.
The town of Moncton in New Brunswick is currently on lockdown as officers search for the gunman, who is understood to be armed with two military-style assault rifles, a bow and a knife.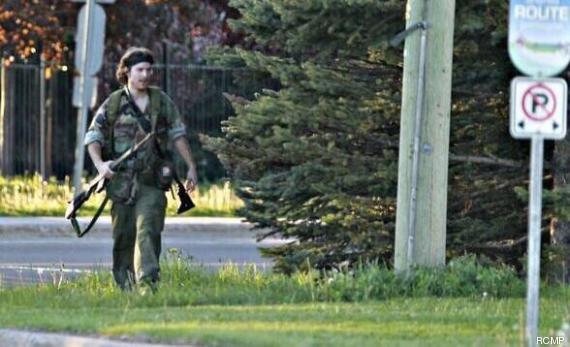 The Royal Canadian Mounted Police have identified the suspect as Justin Bourque
Caitlin Isaac worked with Bourque at a branch of Walmart a few years ago.
She told Business Insider the 24-year-old often talked about giving "people something to remember him for," before he was fired.
"I never took him seriously but he always said he wanted to go out with a bang and bring people with him," she remembered.
She says Bourque was sacked for "attitude related issues, being defiant, not doing what he was supposed to be doing – problem with authority."
My heart and prayers go out to officers families and victims to this horrible shooting in #Moncton. Man on the loose pic.twitter.com/J65Lglq4Sn

— Brian Wang (@brian_wang) June 5, 2014
This ain't good: #monctonshooting "He looked like Rambo" says Joan MacAlpine Stiles, who saw man with gun pass through her backyard.

— chris kayaniotes (@kayaniotes) June 5, 2014
She added Bourque's issues with authority also applied to his relationships with parents, bosses and police.
Serena Simmons, a senior lecturer and expert in mass and spree murders at Nottingham Trent University told Huffington Post UK via email: "This is clearly a very angry, very aggrieved young man.
"In situations like this the individual often feels as though the world has done them wrong in some way. Quite often there is an anger with everyone for not recognising their importance – not just one individual – and this would manifest itself in a serious dislike of authority figures.
"This in turn can reflect a warped sense of self which is based upon an inflated sense of self-worth and self-importance. How dare the world not know who they are? How powerful they are? What they are capable of? Perhaps the only way to solve this is to hold a gun, to wear the clothes of 'combat' and ultimately to show his authority, leadership and sense of control."
The RCMP has urged the public not to reveal the location of officers on social media as it is suspected Bourque may be using these channels.
Assistant Commissioner Roger Brown told a press conference on Thursday: "It has perhaps been the darkest day in the history of the New Brunswick RCMP."
"Please continue to be vigilant.If you see anything call 911.Please do NOT post police movements on social networks." pic.twitter.com/DSKmRUSs5b

— RCMP New Brunswick (@RCMPNB) June 5, 2014
A/Commr Roger Brown, "It has been perhaps the darkest day in the history of the New Brunswick RCMP."

— RCMP New Brunswick (@RCMPNB) June 5, 2014
A Facebook page for a Justin Bourque in Moncton appears to be still active during the manhunt and features several anti-police and pro-gun posts.
The user's profile picture is of two men in camouflage jackets posing with guns, with shell casings littering the snow around them.
The most recent status update, posted a few hours before the shootings, features lyrics from a Megadeth song called Hook In Mouth.
There has been no confirmation that this Facebook page belongs to the same Justin Bourque named as the shooting suspect.
One witness near the scene of the shooting said he saw one officer bleeding from a wound in the top of her head.
A video believed to show the moments shots were fired during the manhunt has also emerged online.
It shows a family indoors watching a police confrontation outside their home. A woman can be heard screaming: "Oh my God, call 911" as shots ring out, apparently killing at least one officer.
The suspect is believed to be hiding in a wooded area in the Pinehurst subdivision area.