This cheeky melody "Putin On The Blitz" by songwriter Christopher Mason compares the politician to Darth Vader, mocks his "man-boobs" and lampoons him for his invasion of Crimea, all to the tunes of "Singing In The Rain" and "You Say 'Tomato', I say 'Tomato".
Performed by Mason (in a most excellent bowtie) for "Seriously Entertaining," the literary cabaret presented by The House of SpeakEasy at City Winery in New York, "mad, bad Vladimir" is not the only one lampooned in the skit, which also skewers "freeloadin'" NSA whistleblower Edward Snowden, Hilary Clinton and Barack Obama.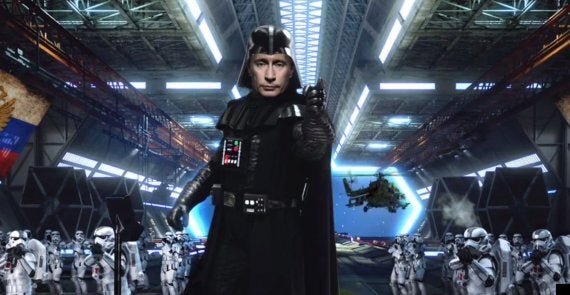 "They call him 'Darth Putin'" and he wants his Empire back
"Amanda Foreman had asked me to write and perform a rollicking topical song for the evening," Mason told HuffPost UK. "Scouring the headlines, I concluded that nothing could be more topical than Mad, Bad, Vlad Putin, his military escapades in Ukraine and his seething imperial ambitions.
But the pace of events move so quickly in eastern Europe, Mason was pressed to keep on top of things as he wrote his song. "It was a devilishly challenging song to write. I found myself polishing a satirical stanza, only to receive a Putin news alert that meant I had to scrap it and start over!"
If you enjoyed the taster above, here's the marathon six-minute version.