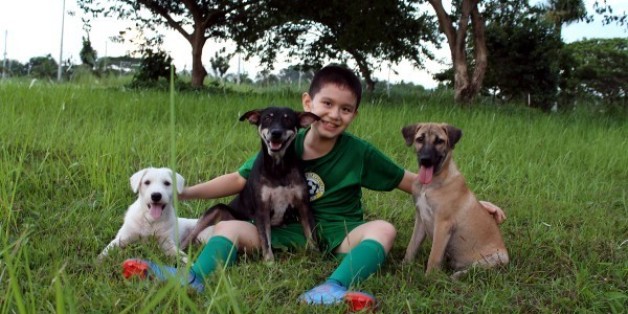 Happy Animals Club
Instead of doing what most kids do and spend pocket money on treats for themselves, 9-year-old Ken Amante used his to do something amazing - feeding a group of stray dogs near his home in the Philippines.
His story went viral, and soon people from across the world were making generous donations so he could fulfil his dream of setting up his own animal shelter, Happy Animals Club. So far, £27,000 has been raised.
"We got enough money to get the dogs I was feeding off the street, feed them high quality canned food, and provide them with veterinary care," he says on the Happy Animals Club website.
"They gained a LOT of weight, their open wounds healed, and their fur grew back. They also learned not to be scared of humans."
WARNING: GRAPHIC PICTURES
His next aim is to raise enough money to care for as many animals as possible.
It was Ken's father who first discovered that his son was caring for the animals. He noticed Ken was leaving the house with a backpack everyday for two weeks and, one day, he decided to follow him.
His dad explains that when he first saw the animals, he was "disgusted".
"I'm embarrassed to say I was pretty disgusted. But my son changed my perspective entirely," he wrote, according to The Metro.
"He doesn't have my prejudice and paranoia I guess. I was blown away when I saw that little zombie pup do a hi-five again and again."
SEE ALSO:

25 Cats Who Are Winning At Life