A man who climbed on top of a cathedral altar after pulling down his trousers, broke a crucifix and punched a 70-year-old woman in the face has been jailed.
Nicholas Courtney, 35, claims he walked into Exeter Cathedral to pray before being overcome by the urge to "give everything to God".
He placed £20 in a donation box by the high altar before stripping off his trousers - exposing his buttocks to horrified worshippers and visitors.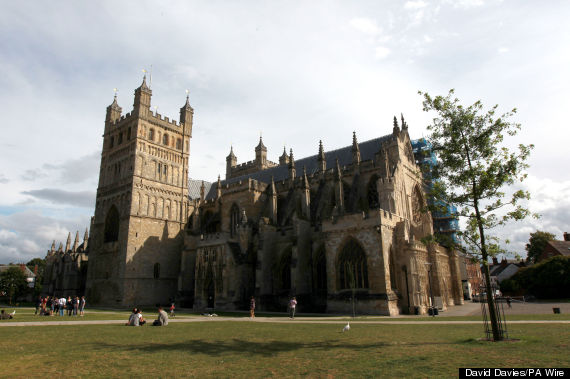 Exeter Cathedral
Courtney then ran to the cathedral's high altar and jumped on top, causing a cloth covering it and two candle sticks to come crashing to the ground.
Exeter Crown Court heard Courtney leapt off the altar and broke a crucifix, before fleeing by the cathedral's west exit.
He first smacked an outraged onlooker after she began reprimanding him but became angry when she hit him back.
Courtney next targeted a 70-year-old woman who was posing for a picture with her young grandchildren ahead of her fourth course of chemotherapy.
He punched her in the right eye, causing the grandmother to fall to the ground and break her wrist.
Stunned members of the public outside the cathedral were able to pin Courtney down and restrain him until police arrived.
Tattooed Courtney later pleaded guilty to charges of criminal damage and inflicting grievous bodily harm.
He was jailed for a total of 26 months at Exeter Crown Court today by Judge Jeremy Griggs.
The court previously heard that Courtney, of Exeter, walked into the cathedral at around 1pm on February 15 without paying the entrance fee.
Prosecutor Nigel Wraith said Courtney walked up to the altar and placed £20 on top of the donation box.
"He then started removing his clothing," he said. "He removed his trousers, he exposed his buttocks.
"Cathedral employees spoke to him and managed to persuade him to replace his clothing.
"He then ran to the high altar, climbed on top of it, pulled the cloth off it, chucking off two candlesticks in the process.
"He then jumped off the altar, causing further damage to a crucifix."
Mr Wraith said cathedral staff later told police they felt "outraged and alarmed" by Courtney's behaviour.
He said a 70-year-old woman had been posing for pictures with her grandchildren, aged three and five, on the cathedral steps.
Her husband was taking a photograph when Courtney leapt forward and punched her in her right eye, striking her off her feet.
The woman, who was terminally ill with cancer, put her left arm out to break her fall, causing her wrist to fracture.
Police rushed to the scene and arrested Courtney, who said: "Oh God, what have I done? I can't come back here, I will get a kicking. This is God's waiting room, isn't it?"
In interview, Courtney said he initially went to the cathedral to pray and climbed on the altar to feel "closer to God".
Defending Courtney, Jeremy Harris said Courtney had been prescribed treatment for mental health problems but did not take it and had instead been self-medicating with legal highs.
Mr Harris said: "He is totally appalled, he is deeply remorseful for his actions. He describes his actions as despicable and totally beyond reason."
Speaking after the sentence, a spokeswoman for Exeter Cathedral said: "This was an unpleasant incident and we are glad it has now reached a conclusion.
"Our thoughts are with the injured lady and her family."