Did someone's stag night go horribly wrong?
The carcass of a West African Dwarf Crocodile has been found – where else – on a golf course in South Lanarkshire, Scotland.
Scotland's animal welfare charity the SPCA were called out after concerned members of the public reported seeing the beast lurking in the stream at Carnwath Golf Course. The carcass of the crocodile was found on Carnwath Golf Course, near Biggar in South Lanarkshire
The four-and-a-half foot long reptile was found to be quite dead, with its insides removed and strands of straw sticking out of its legs.
Scottish SPCA inspector Heather Lawson said: ""I first thought it was a prank when I received a call saying there had been sightings of a crocodile but when I investigated I found it was real.
"The crocodile was dead and oddly had tape wrapped around its head. It seems someone has attempted to stuff the crocodile as it had no insides and there was straw stuck in its legs.
"It's a complete mystery how it got there. These are protected animals and anyone who owns one in this country would need to have a Dangerous Wild Animal license."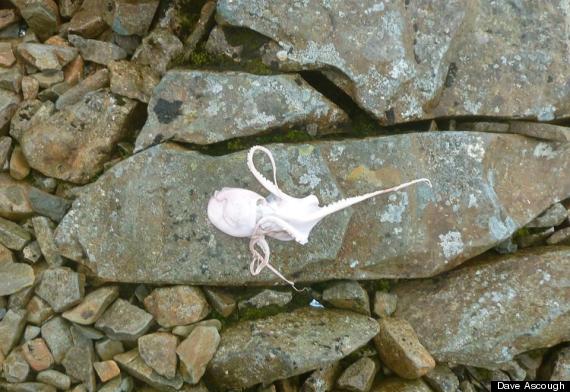 Octopuses are not traditionally known to be fond of hiking
This reminds us of a mysterious incident last year in which a fresh octopus was found dead near the top of England's highest mountain.
The pasty-white, limp carcass was discovered by a team of volunteers on a litter pick on Scafell Pike.
There's no word as to how it came to get up the mountain, but its demise perhaps proves that octopuses are tragically ill-equipped for hiking.