One of the BBC's most famous presenters believes the corporation actually veers towards the right and has grown "obsessed" with covering the same stories as conservative newspapers.
Economics Editor Robert Peston, who became a household name covering the financial crisis, said his employer's anxiety about perceived bias against the right - which Tory MPs and current employees have accused it of - was a myth that actually made it go in the opposite direction.
Peston said any suggestion the BBC has a left-wing bias is "bollocks" and the broadcaster actually veers towards a right-wing, pro-establishment view for fear of criticism.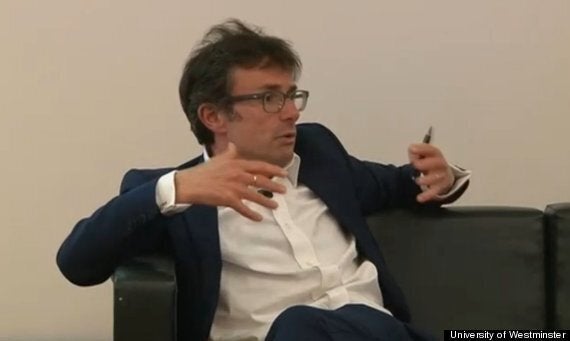 Robert Peston said his employer had grown 'obsessed' with covering the same stories as right-wing papers such as the Telegraph and Daily Mail
He made the comment after giving the Charles Wheeler Lecture on journalism in London on Thursday, which followed Channel 4 News legend Jon Snow receiving an award.
Peston was asked whether he agreed with Jeff Randall, the corporation's former business editor, that it had an "institutional left-wing bias".
Peston said: "Look, I love Jeff. He's a great mate of mine. But it's bollocks really.
"If I'm honest, the BBC's routinely so anxious about being accused of being left-wing, it quite often veers in what you might call a very pro-establishment, [a] rather right-wing direction, so that it's not accused of that."
He said the broadcaster had grown "completely obsessed" with following the news agenda set by coverage of the right-wing papers such as The Daily Telegraph and Daily Mail.
"There's a slightly 'safety first' thing at the BBC - that if we think the Mail or the Telegraph is gonna lead with it, then we should lead with it," he said. "I happen to think that's mad."
Peston's comments echo a University of Cardiff report published in February.

The research, commissioned by the corporation's governing body, said the BBC was more likely to use sources such as Ukip politicians or Republicans in the US rather than Greens or Democrats and relied on those within business and the media more than its rivals at ITV or Channel 4.
"On the contrary, its dependence on certain dominant institutions notably in the business world and the national print media – would appear to push it the other way.
"The most plausible hypothesis is that the BBC has, under pressure, been pushed to the right."
Peston is only the latest former or current BBC employee to publicly criticise the corporation.
In March, Today Programme titan John Humphrys attacked the BBC for not being "sceptical" in its coverage of issues such as immigration and the European Union.
"We weren't sufficiently sceptical – that's the most accurate phrase – of the pro-European case," he told the Radio Times.
"We bought into the European ideal. We weren't sufficiently sceptical about the pro-immigration argument. We didn't look at the potential negatives with sufficient rigour."