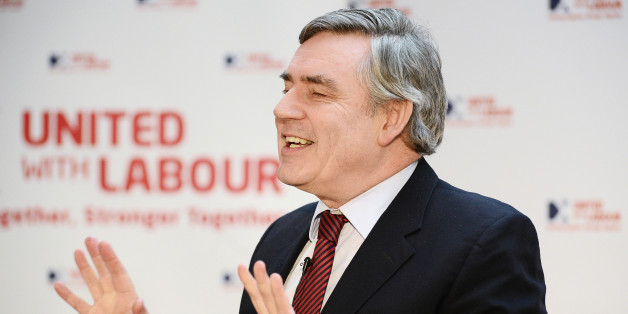 Jeff J Mitchell via Getty Images
Gordon Brown has refused to reveal whether he intends to stand for re-election to parliament until after the Scottish independence referendum campaign is over.
The former Labour prime minister has been MP for Kirkcaldy and Cowdenbeath since 1983, but has made only fleeting appearances in Westminster since he stood down as prime minister in 2010.
Speaking at a lunch with journalists in parliament on Monday afternoon, Brown said he had "no desire to be part of front-line politics" anymore. However pressed by reporters, he refused to be drawn on whether he intended to stay as a backbench MP beyond 2015.
He said: "I am not going to make any announcements while we are fighting a referendum." But he added he knew "everyone has a shelf life in politics".
Since losing the 2010 general election, Brown has focused most of his time on international charity activities. In July 2012 he was appointed United Nations Special Envoy on Global Education.
Scots will vote in the independence referendum on September 18. Brown warned that the pro-union campaign needed to set out a positive case for Scotland remaining part of the United Kingdom. "Countries can be lost by mistake," he said.
And he suggested David Cameron's current approach to fighting the SNP, while understandable, was hurting the pro-union campaign as it focused too much on what Britain would deny an independent Scotland rather than on painting a positive "vision" for the country.
With 100 days to go until the vote, Brown also encouraged Cameron to debate Alex Salmond face-to-face. "People have to decide what the best way forward is. I think it would be a good idea if David Cameron did debate Alex Salmond, but I'm not involved in the negotiations," he said.