When Sir Michael Wilshaw, then the fresh-faced new head of Ofsted, met the headteacher of the first school in the country to be rated outstanding under his new inspection regime, it was described as a "clear meeting of minds", by the Guardian.
That school was Park View in Washwood Heath, north Birmingham, today placed in special measures after an emergency surprise inspection in the wake of the 'Trojan Horse' letter, which purported that schools in the city were being targeted by Islamic extremists bent on strict gender segregation and radicalising children.
It could hardly have been a more embarrassing school for Sir Michael. It was the subject of a frothy Guardian feature two years ago, where he gave the school wild praise. In the background of the newspaper's pictures of the inspection is Tahir Alam, the controversial governor alleged to have had a hardline agenda, including the policy of having girls sit at the back of classrooms. Alam denies the allegations.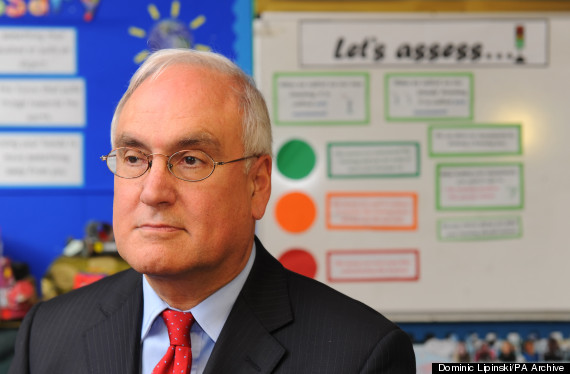 Ofsted Chief Inspector Sir Michael Wilshaw who has changed his opinion on Park View school
Although Sir Michael insists that standards have slipped so swiftly that both the 'Outstanding' and the subsequent 'Failing' verdict are correct, this doesn't look good for the ex-Hackney head who was described as Michael Gove's hero.
Here's what a difference two years, and a media storm, makes:
2012: 'An inspector calls' from the Guardian's visit with Sir Michael to Park View school
"I've been in to lots and lots of schools in my time. You can sense a good school as soon as you walk in, as soon as you walk through the door, you sense what the school is about. The first half an hour tells you what the school is like."
"It would be easy here to say: 'The children come from tough backgrounds', but you don't. They achieve; that's the key issue. It's having that "no excuses" culture."
Wilshaw is here to praise the school's staff for their achievements, and to find out which of the methods adopted here can be applied elsewhere. As he puts it: "If a school like this does well, why shouldn't any school do well?"
The pupils are scrupulously well-behaved; attentive and eager in class, quiet outside it. This hasn't just been achieved for this visit, but a governor does confide later that the chief inspector's visit has made everyone a little nervous ("it's like a no-notice inspection").
2014: Sir Michael Wilshaw's statement to the BBC after its surprise inspection of 21 schools, including Park View
"Some of our findings are deeply worrying, and in some cases quite shocking. There are some that give cause for grave concern."
"In the most serious cases, a culture of fear and intimidation has taken grip since we last inspected."
"Some headteachers, including those with a proud record of raising standards have been marginalised or forced out of their jobs. This has left a vacuum in which schools previously rated good or outstanding have suffered enormous staff turmoil."
"There has been a sudden and steep decline in these schools."
"Governors are exerting far more influence than is appropriate or acceptable. Some teachers reported that they were treated unfairly because of their gender or religious beliefs."
"They had not taken it seriously enough their duty to safeguard children against the potential risks associated with extremism and radicalisation."