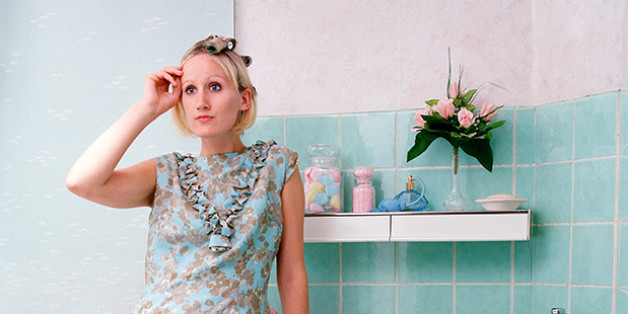 Nina Röder
For many of us, there's very little you can hide from your mother. They can read us like a book - a slight change in facial expression can speak a thousand words. But, on the flip side, how much do we really know our mothers?
This issue is the focus for photographer Nina Röder's series 'Mutters Schuhe' (translation: in mother's shoes).
Fascinated by her mother's life and the hidden structures in biographical stories, Nina decided to explore her mother's history and memories in a series of powerful photographs.
The series shows Nina, her mother and her grandmother, all wearing the same clothes in the same setting. The only difference between the images are subject and pose, which exposes the different stages of a woman's life.
Story continues below...
The photos were taken in her grandparents' house in Windsbach, a small town in Bavaria, Germany in 2008 when her mum was 54, Nina was 25 and her grandmother was 81 years old.
"I decided to focus on my mother's memories of her youth, not only because I wanted to get to know my mother better, but I wanted to learn indirectly more about myself," she told HuffPost UK Lifestyle.
"I wanted to see her not only as my mother, but as a woman who had a life before me - a life full of hopes, first loves, dreams and ideas."
SEE ALSO:

Model Natalia Vodianova Posts The Most Stunning Breastfeeding Picture

WATCH: Father Creates Touching Time-Lapse Of Children Growing Up