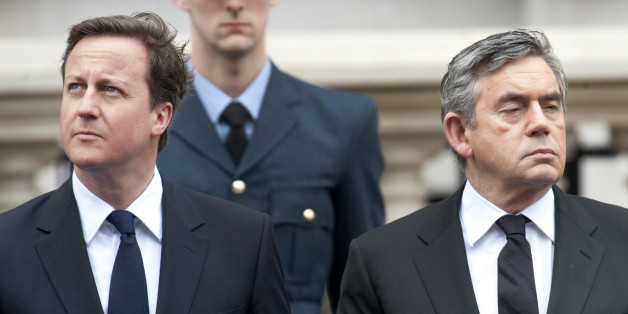 Arrow Press/EMPICS Entertainment
David Cameron has fallen into a trap set by Alex Salmond with his mistaken interventions in the Scottish independence debate, Gordon Brown has said.
The former Labour prime minister told Sky News on Monday morning that too often the Westminster government accepted the SNP's terms of debate.
"I think the nationalists want people to think it's Scotland versus Britain or Scotland versus England. And I think sometimes the government itself has fallen into this trap," Brown said. "It was all done for the right reasons or the right motives, but it looked like Britain versus Scotland," Brown said.
Brown's comments came as both sides of the independence debate marked the 100 days to go mark until the referendum is held on September 18.
Writing on The Huffington Post on Monday, Scottish secretary Alistair Carmichael warned Scots that the union was "far too good to gamble" away.
"We're being asked to make an irreversible decision not just for ourselves but also for our children and our grandchildren. There is no going back from a yes vote and there are no second chances. We must remember that this is not like a general election where we can vote again in five years," he said.
On Monday morning it was reported that the British government had asked president Obama to intervene in the independence debate on behalf of the 'no' campaign. Last week the president said the United States wanted to seethe UK remain "united" as one country. He made the unexpected comments during a press conference with David Cameron in Brussels.