David Cameron, Angela Merkel and two of their EU counterparts have embarked on a row boat ride which, The Huffington Post UK suspects, could be a metaphor for something.
The leaders joined Swedish Prime Minister Fredrik Reinfeldt and Dutch Prime Minister Mark Rutte for a little messing about on the river in Sweden before they settled down to talks about the future of Europe and the all-important question of who will be the next president of the European Commission, which has got Cameron sweating.
Merkel has publicly backed former Luxembourg prime minister Jean Claude Juncker but Cameron has opposed his candidacy, fearing he is an opponent of the reforms he is seeking to tempt back voters who have defected from the Tories to Ukip.
Reinfeldt and Rutte also oppose Juncker's candidacy. From left: Cameron, Merkel, Reinfeldt and Rutte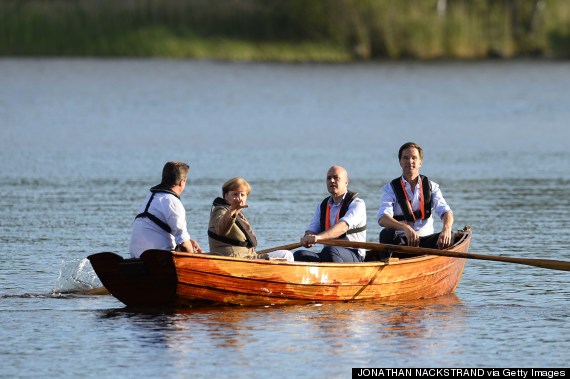 Merkel gestures to the camera about... something It doesn't like look Reinfeldt let anyone else do the rowing
We assume, given how happy the leaders look in these photos, they didn't discuss the issue during the boat ride.
Or did they? HuffPost UK asked readers to submit their picture captions for the images that shows four leaders in a boat and only one of them doing any rowing.
Here are some of the best - but this is our choice for the winner:
@HuffPostUKCom Come in number 10! Your time is up at number 10!

— Marc (@marcpaters0n) June 10, 2014