You probably ought to check your passport if you're booking some last-minute sun. Because there's nothing last-minute about how this office works.
These leaked photos from the Passport Office in Liverpool have laid bare the scale of the task that officials have to complete. Unions have claimed a backlog in passport applications is surging above 500,000 despite emergency plans being put in place.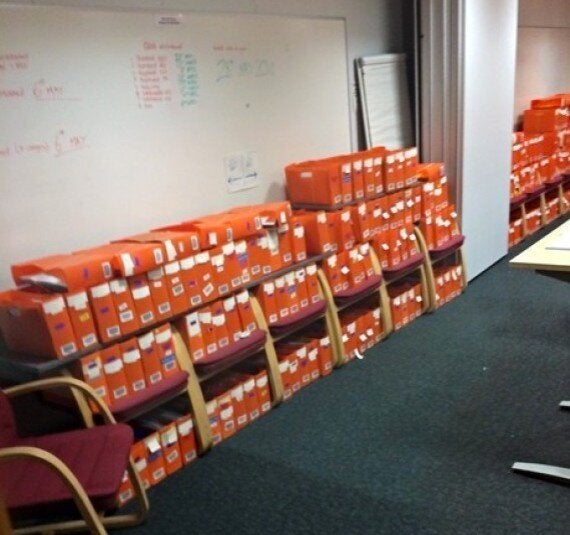 These leaked pictures show the backlog at the office in Liverpool
It's all good news though, according to Home Office minister James Brokenshire, who told MPs in the House of Commons on Tuesday night that the "significant surge" was "an indication that as the economy is improving more people are understandably planning to travel".
Passport Office head Paul Pugh has been asked to appear next week before the Commons home affairs select committee and Labour MP Geoffrey Robinson has called on him to make a "graceful exit".
Contingency procedures to deal with the high number of submissions are failing to tackle the problem and the figures are continuing to rise, according to the Public and Commercial Services union. It claims that the loss of 300 jobs and the closure of 20 offices over the past five years is behind the delays in dealing with applications.
Mike Jones, from the PCS, told BBC Radio 4's Today: "The situation has been compounded by the job cuts that have taken place over recent years.
"There are half a million applications that are waiting within the Passport Office at the moment.
"That figure is raised steeply over a number of months. The Home Office and the Passport Office used to have strategies in place for when the figure reached 150,000, that they would put contingency plans in to deal with those amounts.
"Now we have seen the figures are up to 500,000 and rising at the moment. Even all the contingencies that they are trying to put in place, we are still seeing that figure rising, so there is clearly a crisis going on within the Home Office and the Passport Office as well."
Brokenshire said 97% of straightforward renewals were being turned around within three weeks and 99% in four weeks.
He added: "Our focus is supporting the Passport Office on the additional resources they have put in. They have redeployed people, they are now working seven days a week, extra hours as well, and there are are further steps they are taking in addition because we recognise that getting passports turned round efficiently and effectively matters to people."
Brokenshire insisted the number of employees at the Passport Office had gone up by 300 over the last two years.
He said: "It is certainly fair to say the Passport Office has seen a significant increase in demand for its service during the months of this year between January and now.
"The figures that I've seen show that's showing at around a 12-year high."
The Passport Office boss said there had been "exceptional" summer demand but that extra staff had been brought in to handle applications.
"We are operating seven days a week and our couriers are delivering passports within 24 hours of being produced," Pugh said.
"We have issued almost three million passports for UK customers in 2014, including over one million issued in the eight weeks since the start of April."