Müller has signed a five-year deal while club captain Philipp Lahm has committed himself to another four years contract with the Bundesliga champions.
Both players came through the club's youth system and, with the exception of a two-year loan spell with Stuttgart in the case of Lahm, have spent their whole careers with Bayern.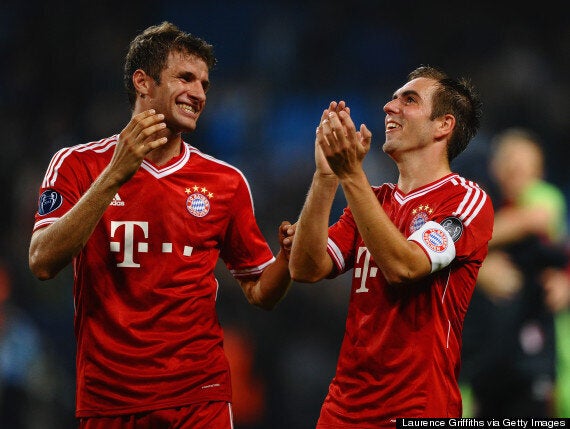 Müller and Lahm are vital to Bayern's future under Pep Guardiola
Müller, the top goalscorer at the last World Cup four years ago plans to spend his career with the Bavarian club.
"I'm delighted to have extended my contract until 2019 so close to the start of the World Cup," he said. "The club convinced me that I'm in the right place and I have the feeling that I'm an important component in the club's plans.
"Bayern have been my club since 2000 and they will remain so for years to come."
Lahm has been a mainstay in the Bayern team ever since returning from that two-year loan spell with Stuttgart 11 years ago and says he will retire at the end of his extension.
"This is definitely my last contract and I will end my career at Bayern Munich," said the 30-year-old. "That was always my wish and I'm delighted it has happened."
Popular in the Community