It should have been a day of near-religious rapture, of raised hackles and chewed fingernails. We may sing in England about football coming home, but in our hearts even the proudest Englishman knows the real home of football is the nation of Pele, Ronaldo and Neymar.
But with just hours before the Canarinho kick off against Croatia in Sao Paolo, it's already kicking off outside the Arena Corinthians -with stun grenades and rubber bullets flying before the first boot touches the ball.
For Brazilians, tonight is far from a joyous homecoming. It is a wasteful extravagance which has made the country that put the beauty into the beautiful game come to hate its own national team.
Any hope that security forces and organisers had that pride in the national team would be enough to quench the righteous anger of social justice protesters, who have taken to the streets for months to protest the tournament, was wildly optimistic. With just six hours before the first whistle is blown, police fired stun grenades and tear gas to break up protests in Sao Paulo, and shot rubber bullets at angry crowds.
'If we have no rights, there won't be a Cup,' one banner declared. Even Brazil's golden boy Neymar, jeered at the friendly against Serbia, has said he has some sympathy. "If people want to manifest and fight for a better country, let it be," the Barcelona superstar said. "I'm with them but I'm against violence. There is difference."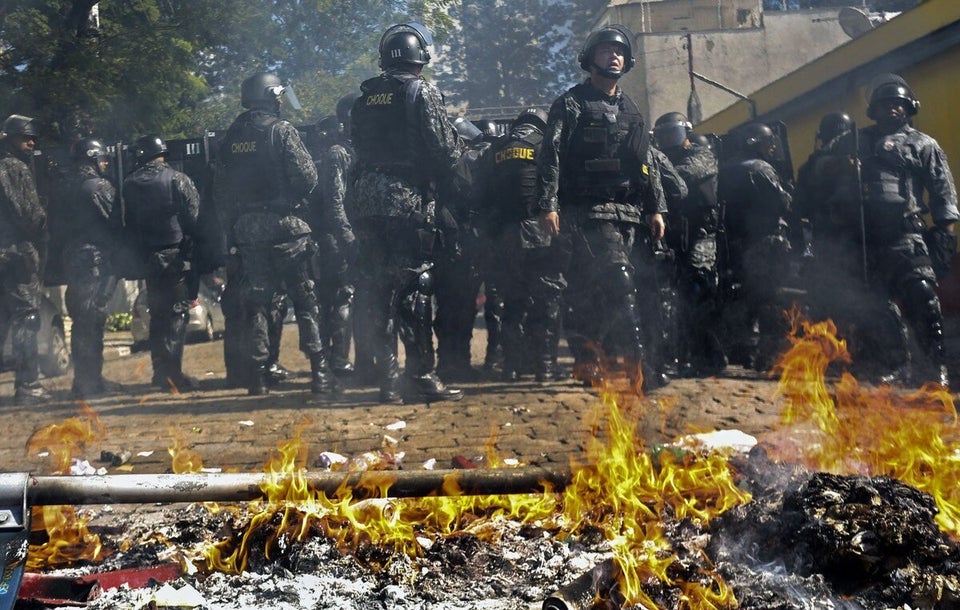 World Cup Protests
Demonstrations have been ongoing since last June as Brazilians vent their anger against £7bn to the Brazilian taxpayer, drawing more than a million people into the streets at their peak. It is not hard to see why, the poorest third of people in Brazil receive less than 1.2% of the national income.
Though several of the most high-profile protest leaders have said they will respect the players and the 60,000 fans who have travelled to the tournament and cease their protests, a hardcore angry nucleus remains, with Facebook groups calling for a march on the Sao Paulo arena ahead of the game, evading police by using thoroughfares intended for VIPs.
Still, the protesters could find that if violence flares during the tournament that brings humiliation to the country and its five-time-winners, public support will dwindle. At its peak, 89% of people supported the social justice protests, now that support has waned to around 50%.
Brazil's beefed-up police force has been given more muscle than Hulk. More than 150,000 are on the streets of the 12 host cities. Roughly a dozen protest leaders were taken to police stations to provide "information" on planned disruption, according to reports, but none were arrested or detained,
Human rights groups have expressed concern at the clampdown. Atila Roque, Director at Amnesty Brazil, said: "Brazil's deficient policing record, reliance on the military to police demonstrations, lack of training and an atmosphere of impunity creates a dangerous cocktail in which the only losers are peaceful protesters.
"The 2014 World Cup will be a crucial test for authorities in Brazil. They must use this opportunity to step up their game and ensure the security forces policing demonstrations during the tournament refrain from committing any more human rights violations."
The protests have not been the only plague on the organisers. Because of lengthy delays and the tragic deaths of several workers, the new arena has never been match-tested at full capacity. Reporters on the ground claim that electrical work and lighting was still being installed last night.
Away from tonight's Sao Paulo stage, there are more disturbances. Workers at Rio de Janeiro's Galeao airport, expected to be heaving over the next four weeks, have declared a partial walkout after pay negotiations broke down. Staff at Santos Dumont airport have also gone on strike - an important hub for internal flights to Sao Paulo.
The final test may not be tonight's kick off, but whether in four week's time Luis Felipe Scolari's beloved 'Selecao' holds the golden trophy aloft for a sixth time. Only then will Brazilians really know if they believe it was worth it.