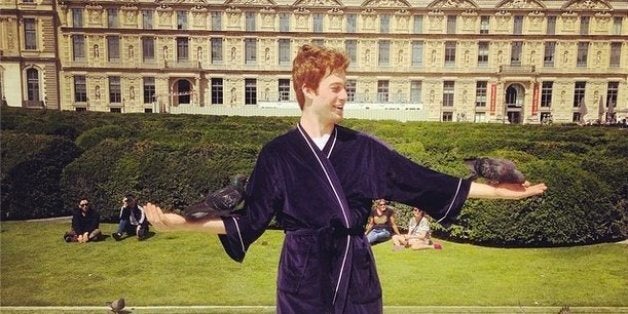 An American student is touring the wonders of Europe this summer. So far, so normal. Except this guy calls himself the "Bathrobe Crusader". In other words, he's travelling around Europe, wearing a bathrobe ("dressing gown" to you and I) everywhere he goes.
He's a student of the University of Southern California, but we don't know his name. It's all very mysterious. But he's not hard to spot. After all, who needs real clothes anyway?
With over 1,200 followers on his Instagram account, Mr. Bathrobe Crusader has become something of a travel inspiration.
He seems to be a pretty laidback guy, his Instagram description stating: "changing the world before he changes his clothes. Follow, or don't, he doesn't care, he only crusades". Well that cleared that up, then.
So far, he appears to have passed through London, Amsterdam, Paris and Geneva, documenting his journey every step of the way with an Instagram photo – no doubt pleasing his many fans. And he loves his hashtags – "bathrobe porn" is our favourite.
He told BroBible "I am travelling Europe for the summer in style… I will be in Tropez soon with a group of ballers (for lack of a better word), and will be getting tables at VIP Room and will walk in wearing my bathrobe." We can't wait to see that.
If you're on the continent, keep a look out for the elusive Bathrobe Crusader. Where will he go next?
Here's some of his epic journey so far.