They are forced to lie down before being shot. Iraqi soldiers moments before they are shot
Captions on the pictures say the executions are to avenge the death of ISIS commander Abdul-Rahman al-Beilawy, reports AP.
The pictures have been confirmed as genuine by top military spokesman, Lt. Gen. Qassim al-Moussawi.
Story continues after slideshow...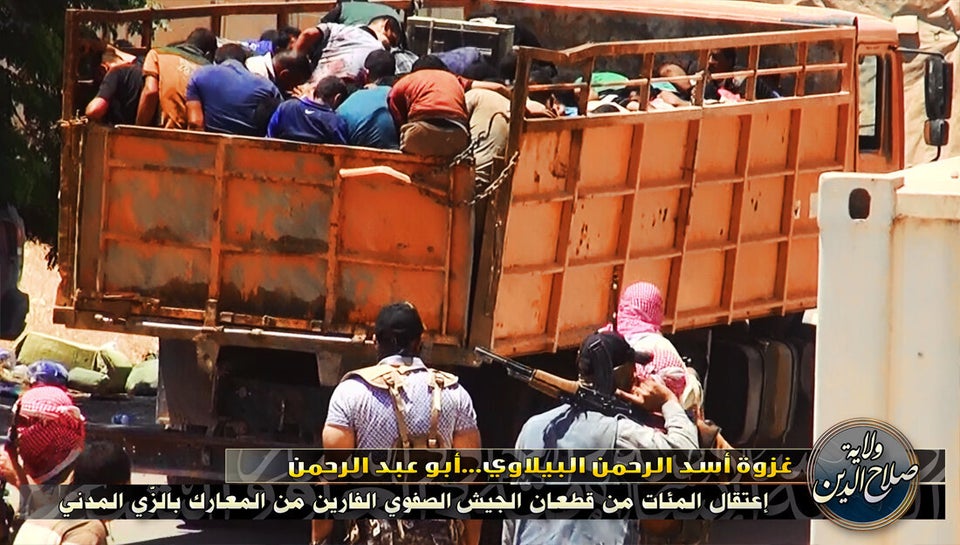 ISIS (GRAPHIC IMAGES)
A picture of the severed head was then shown with the caption: "This is our ball. It's made of skin #WorldCup."
The Sunni insurgents took control of Mosul, Iraq's second largest city, this week displacing hundreds of thousands of people, escalating fears of a brutal civil war against Iraq's Shia majority.
ISIS have overrun a series of army facilities and have been pictured standing on top of Iraqi tanks. The guns in the pictures are American made M16 rifles, likely taken from Iraqi arms depots.
They have vowed to take Baghdad and Shi'ite spiritual leaders have called upon them to take up arms against them.
Tens of thousands of Shi'ites have flooded refugee camps to escape the violence.
U.N. human rights chief Navi Pillay has warned of "murder of all kinds". She added the number killed in recent days may run into the hundreds, while the wounded could approach 1,000.
The US has sent an aircraft carrier and guided-missile destroyers sent to the Persian Gulf while Iran is said to be bolstering Baghdad's defences with special forces troops.
There is concern that Shia Iran will not tolerate a militant Sunni force on its border and may be forced to intervene, escalating the crisis further.