Statutory paternity leave should be twice as long and paid at almost twice the present rate to encourage more fathers to spend time with newborns, a think-tank said.
Under a blueprint drawn up by the Institute for Public Policy Research (IPPR), fathers would automatically qualify for four weeks' leave after the birth, paid at the minimum wage.
The IPPR said one of the main reasons only 55% presently took off the available fortnight was because they felt they could not afford the loss of pay.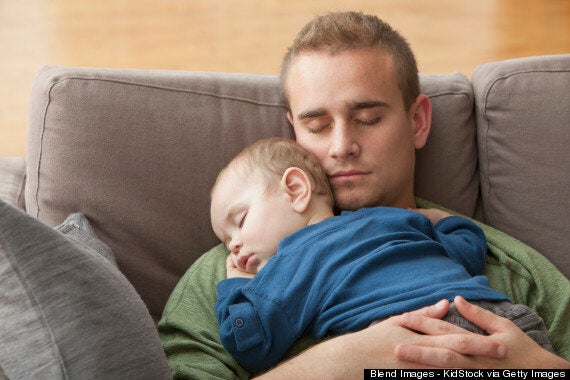 "New parents need time away from work to care for their young children"
Under existing rules they qualify for a statutory £138.18 a week, equivalent to £3.45 an hour for a 40-hour week, with employers encouraged to make up the gap in the employee's usual pay.
Bringing the taxpayer-funded contribution up to minimum wage level would increase take-up to around 70%, the think-tank estimates, at a cost to the Treasury of around £150 million in 2015/16.It also called for the number of antenatal appointments fathers will be allowed paid time off to attend from October be doubled to four.
Senior research fellow Kayte Lawton said: "New parents need time away from work to care for their young children, and to strengthen their relationship with each other at what can be a hugely enjoyable but also very stressful time.
"However, this is often difficult for fathers because they have limited entitlements to paid leave, and so they often assume the role of breadwinner while their partner is on maternity leave.
"Fathers who take more than a few days off around the birth of their child are more likely to be actively involved in raising their child than those who do not.
"Fathers' greater involvement in family life can make it easier for mothers to return to work after taking maternity leave, which helps to raise the family's income and lessen the impact of motherhood on women's careers."
Labour said it was considering whether to adopt the "very interesting proposal".
Shadow childcare minister Lucy Powell said: "There clearly are problems with dads being able to play the role they want to in those first weeks and months of a baby's life.
"There are cultural barriers and also the level of pay is a problem for many. It's a very interesting proposal. It's certainly something we're looking at."
But skills minister Matthew Hancock said it was unaffordable.
"This policy would mean even more spending, more borrowing and more taxes - exactly what got us into a mess in the first place," he said.
"It's the same old Labour, they haven't learnt."
A Labour source said the party was interested in taking forward the reform but "will not make unfunded spending commitments".
The Federation of Small Businesses said the change could increase costs and said any further reforms should be put on hold until after the introduction of shared parental leave next year.
National chairman John Allan said: "Small businesses are just getting their heads round shared parental leave legislation, which is coming next year.
"We would suggest waiting until this takes effect before making further changes to paternity leave.
"These proposals may also add to small businesses' overheads if they have to bring in replacement staff when dads take up leave.
"We would recommend policy makers look at measures which would enable more firms to offer enhanced paternity pay. This could give dads a better deal."
Popular in the Community