The BBC has announced a plan to use facial recognition to track the emotions of viewers.
The pioneering experiment would be a limited test to try and figure out more accurately what its audience thinks, and apply those findings to new programming.
The test will be carried out by BBC Worldwide, the commercial global arm of the broadcasting corporation.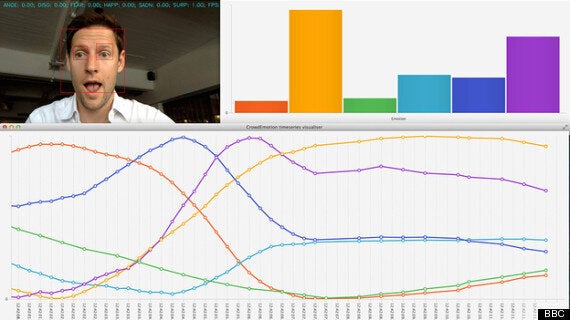 Worldwide's 'Insights' team will partner with CrowdEmotion, a British start-up which uses web cams to record and track emotions, expressions and actions, to conduct the test. More than 200 participants in the UK will be tracked in a pilot study, with the emotions under scrutiny said to include happiness, surprise, anger, fear, disgust and sadness according to the Telegraph.
CrowdEmotion is described thus on its website:
"CrowdEmotion humanises technology by creating a software that mimics the human brain to capture, understand and respond to human emotion. Anywhere in the world. In realtime. Simply using a camera. This technology has a wide range of applications but is particularly useful within the media industry to help shape audience research."
Future tests will be carried out in Russia, Australia and up to six other countries.
"CrowdEmotion's ability to capture, record and quantify our audience's emotional attachment and engagement to our TV shows, places BBC Worldwide at the forefront of global audience research and ultimately determines what our fans love to watch" said David Boyle, who is executive vice president of BBC Worldwide Insight.
CrowdEmotion, which recently won a coveted 'Innovator's Innovator' award at the Technology Innovator's Forum in China, is one of six start-ups in the BBC Worldwide Labs programme along with Seenit, Rezonence, OP3NVoice, Verticly and Buddy Bounce.