Plans have been unveiled for what could be the tallest and coolest structure on the planet: the Phoenix Towers in Wuhan, China.
These incredible spires might look like something out of a 50s sci-fi comic but when finished they'll be the most technologically advanced skyscrapers in existence.
Designed by British architects Chetwoods, the Phoenix Towers are the first truly self-sustaining skyscrapers with one supporting the other through a combination of renewable energy techniques.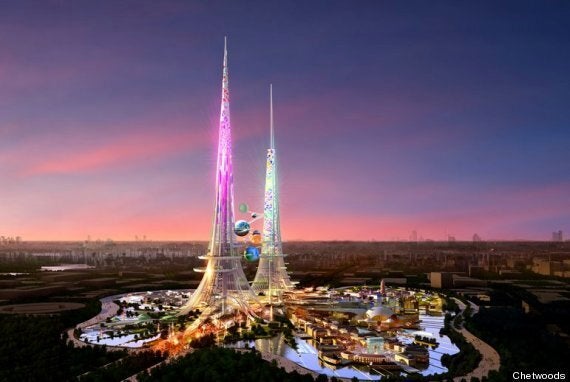 The two towers represent two Chinese Phoenix - a male Feng and female Huang with the Feng tower using sustanable technology to power not only itself but also the Huang tower as well.
To accomplish this pretty astonishing boast the Fengwould be packed to the peak with solar panels, a giant windmill at the top and other technological greenery, all in the name of reflecting Wuhan's new status as "an environmental city of the future".
"It doesn't just stand there and become an iconic symbol of Wuhan, it has to do a job," founder Laurie Chetwood told Dezeen. "We've applied as many environmental ideas as we possibly could to justify the shape and the size of them."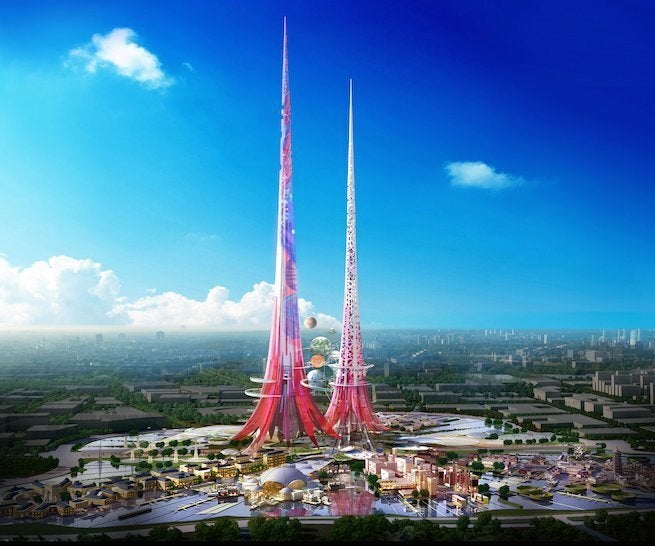 Phoenix Towers: In Pictures
The architects explain on their website:
"Phoenix Towers will be an iconic landmark within an ambitious environmental master plan for Wuhan, the capital of central China. Situated on the Yangtze River at the crossroads of nine provinces, the 'City of 1000 Lakes', population 10 million, has recently been designated an environmental 'Super City' by the regional and central government.

At 1km high the Phoenix Towers will be the tallest pair of buildings in the world. The 47-hectare site (the towers cover 7 hectares) on an island in a lake at the end of a 3km avenue within a dense city layout will provide long vistas. Arching bridge-like over the surrounding boulevards, each tower will have a unique personality and attributes: the Feng tower will lean towards the commercial zone, the Huang tower towards the cultural and recreational zone."
Chetwoods said the building should commence construction within a year and be finished by 2018.