Britain will move towards closer ties with Iran by reopening the UK embassy in the country - as the West courts its historic enemy to help deal with the rampant ISIS insurgency in neighbouring Iraq.
William Hague will set out developments in UK/Iranian relations on Tuesday as the West prepares to look to Tehran to help resolve the crisis.
Britain has had no diplomatic presence in Tehran since a mob ransacked the British embassy in 2011, but the relationship between Iran and the West has thawed since the election of Hassan Rouhani as president.
But Hague has said "circumstances are right" to re-open the embassy and is expected to provide more details to MPs later.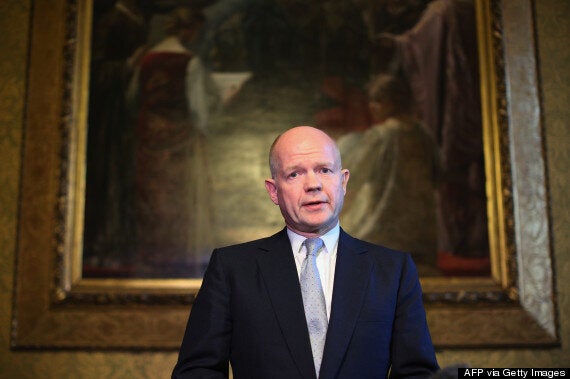 William Hague will set out developments in Britain's relationship with Iran
"Our two primary concerns when considering whether to reopen our embassy in Tehran have been assurance that our staff would be safe and secure, and confidence that they would be able to carry out their functions without hindrance," Hague told MPs in a written statement.
"There has never been any doubt in my mind that we should have an embassy in Tehran if the circumstances allowed.
"Iran is an important country in a volatile region, and maintaining embassies around the world, even under difficult conditions, is a central pillar of the UK's global diplomatic approach."
The news comes as hundreds of American troops were sent to Iraq though Barack Obama insists it will not be dragged into another war.
Obama has said up to 275 soldiers could be sent to support US officials and embassy staff in Baghdad. A total of 175 are already on their way with another 100 on standby in a nearby country until needed.
In his notification to Congress, Obama, who was elected promising to end America's war in Iraq, said the forces would be kept out of combat but are equipped for it if necessary.
The UK foreign secretary spoke to his counterpart in Iran on Saturday and was told there was a "case for a further step forward in our bilateral relations". Barack Obama said the soldiers would not sent into combat but were equipped for it
On Monday, insurgents seized Tal Afar near the Syrian border, and an Iraqi army helicopter was shot down during clashes near the city of Fallujah west of Baghdad, killing both people aboard.
The militants are now 40 miles from the capital, Baghdad.
The burgeoning civil war has prompted some to hope Iran - a historic enemy of the US and Saddam Hussein's regime - will intervene to stop the Sunni militant insurgency.
US secretary of state John Kerry has indicated that the Obama administration is willing to talk with Iran over the deteriorating security conditions in Iraq.
Kerry has said Washington is "open to discussions" with Tehran if the Iranians can help end the violence and restore confidence in the Iraqi government, and would not rule out military co-operation, and a senior US official revealed American and Iranian diplomats have already discussed the Iraq issue during nuclear talks in Austria.
The brutality of the war came into sharp focus on Monday, when an extremist Twitter account put out an image that purported to show ISIS executing captured Iraqi soldiers.
A version of the image, which pixelated the victim in the foreground, was published in British newspapers, including the frontpage of The Times.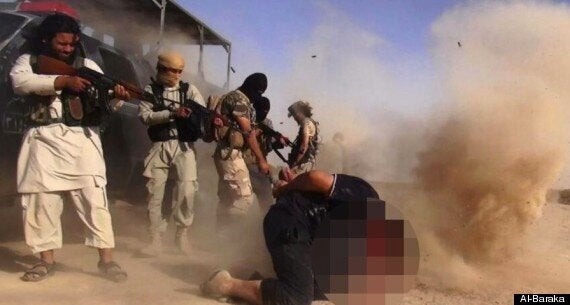 The extremist Twitter account Al-Baraka put out this image that purported to show the moment ISIS militants executed Iraqi soldiers
On military co-operation, Kerry said: "At this moment, I think we need to go step-by-step and see what in fact might be a reality.
"But I would not rule out anything that would be constructive in providing real stability, a respect for the constitution, a respect for the election process and a respect for the ability of the Iraqi people to form a government that represents all the interests of Iraq.
"We are open to any constructive process here that would minimise the violence."
But the Pentagon says it has no plans to co-ordinate with Iran on possible military action in Iraq despite Mr Kerry's comments about engagement with Tehran.
During yesterday's Commons appearance, he was asked by shadow foreign secretary Douglas Alexander about the "urgent case for ensuring an effective British diplomatic presence in Tehran".
Hague said he had discussed "a number of matters, including the situation in Iraq" with Iranian counterpart Mohammad Javad Zarif.
"He said that there was a case for a further step forward in our bilateral relations. I have discussed that with him, and I shall have something more to say about our discussions imminently," Hague told MPs.
"However, our work on that is distinct from discussions on Iraq, which is partly why I shall address those separately."
Popular in the Community