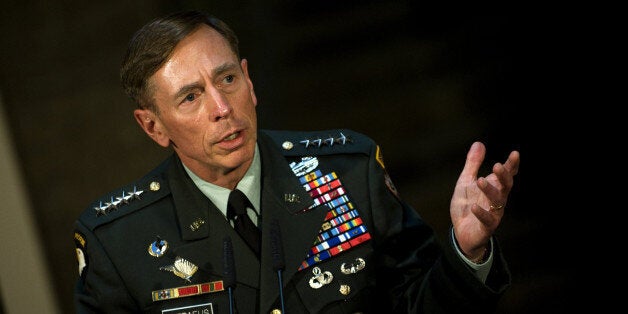 The United States must not become the air force for one side of a sectarian civil-war in Iraq, the former commander of US and UK forces in that country, David Petraeus, has said.
Petraeus, who served as president Obama's CIA director until 2012 following a number of senior military roles, told a conference in London on Wednesday that the current crisis in Iraq had been fuelled by the sectarian actions of its government.
Earlier today David Cameron warned Islamists militants challenging the government in Iraq represented "a real threat" to Britain's security.
Petraeus, who oversaw the 2007 "surge" of American forces into Iraq under George Bush, said the reconciliation within Iraqi society that had begun on his watch had been "undermined" by the subsequent "sectarian actions" of the country's government in Baghdad.
The majority of the population of Iraq are Shia Muslims and the country is run by Shia-led government under prime minister Nouri al-Maliki. Until Saddam Hussain was deposed by the 2003 US-led invasion the Sunni minority had held power.
Petraeus said: "There has to be a huge idea here and it has to be that if there is to be support for Iraq it has to be support for a government of Iraq that is a government of all the people and representative of and responsive to all."
"This can not be the US being the air force for Shia militias or a Shia-on-Sunni Arab fight," he said. "There has to be a government that is trusted by all elements of the society."
He said if the United States did get involved "it has to be a fight of all of Iraq against extremists, who do happen to be Sunni Arabs".
"If America is to [give] support then it would be in support of government against extremists rather than on one side of what could be sectarian civil-war."
Petraeus resigned his job at the CIA in 2012 in scandal following revelations about an extramarital affair. His 37-year long military career saw him rise to command the International Security Assistance Force in Afghanistan and the coalition forces in Iraq.
He also told the London conference that while he understood it was "very attractive" to Americans to withdraw from the world following two "costly" wars in Iraq and Afghanistan, that would be a mistake. "America does have to have a leading role in a number of places around the world," he said.
On Wednesday, Cameron told MPs that Britain could not afford to see the creation of an "extreme Islamist regime" in the middle of Iraq. The prime minister said that the militants of the Islamic State of Iraq and the Levant (Isis) threatening the government in Baghdad were also plotting terror attacks on the UK.
While Britain supported efforts of Maliki to tackle extremism in his country, Cameron said that it was essential that the Iraqi government represented the interests of all the people and not just the Shia majority.
"I disagree with those people who those people who think this is nothing to do with us and if they want to have have some sort of extreme Islamist regime in the middle of Iraq, that won't affect us. It will," Cameron said.
"The people in that regime - as well as trying to take territory - are also planning to attack us here at home in the United Kingdom. So the right answer is to be long-term, hard-headed, patient and intelligent with the interventions that we make."
Popular in the Community